ABOUT THE SQUARE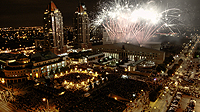 Mississauga Celebration square is the premier location for free outdoor events, connecting residents and community groups through arts, culture, and heritage. Located in the heart of downtown Mississauga, across from Square One Shopping Mall, Celebration Square boasts a main stage with a state-of-the-art sound and lighting system, two digital program screens, a lawn, an interactive water feature which converts in to an ice rink during the winter months, an amphitheatre, as well as a cafe which is set to open this summer.
Map of Mississauga Celebration Square.
Visitors to the Square can enjoy a wide mix of free events such as community festivals, concerts, movies, and fitness classes, or can relax with a book, play in the fountain, connect with free WiFi and grab a bite to eat in the cafe. In 2011, Mississauga Celebration Square attracted over 450,000 people, and proudly hosted over 90 free outdoor events.
Background
Mississauga Celebration Square is an Infrastructure Stimulus Fund (ISF) project. ISF is a joint investment by the Canadian, Ontario and municipal governments to help fund infrastructure projects that create jobs, stimulate the economy and keep local infrastructure in good repair. For updates, locations, photos and special events for all ISF projects in Mississauga, please visit www.mississauga.ca/buildingourfuture.