Oct 18, 2017



For the 28th straight year, the City of Mississauga has won the Distinguished Budget Presentation Award from the Government Finance Officers Association (GFOA) of the United States and Canada. The award recognizes the City's 2017-2020 Business Plan and 2017 Budget which outlines the City's budget priorities in a fiscally responsible way.

The GFOA award is given to municipalities who have met the highest standards of government budgeting.

"It is an honour to receive this award once again. Being recognized as one of the top municipalities nationally by the GFOA, and having achieved the goal of best budgeting practices, highlights our commitment to fiscal responsibility," said Gary Kent, Commissioner of Corporate Services and Chief Financial Officer. "Thanks to Council and staff for demonstrating their commitment to excellence in providing information that is clear and accessible for residents."

The City of Mississauga also holds the distinction of being ranked the top municipality in Canada with the longest active consecutive win streak.

Kent further added, "All the documents we submit are reviewed by professional members of the GFOA and by independent reviewers with experience in public-sector budgeting."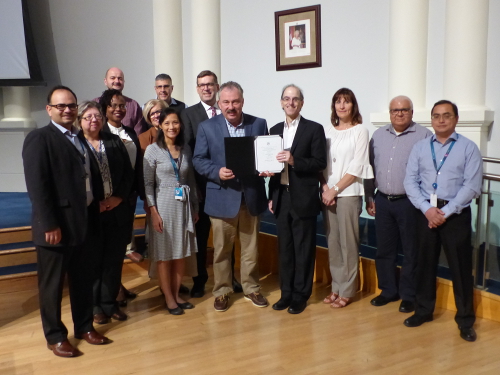 Presentation of the GFOA Award for 2017-2020 Business Plan and 2017 Budget [Download hi-res image]
Background:
The Government Finance Officers Association of the United States and Canada is a non-profit professional association serving more than 19,000 government finance professionals throughout North America. The purpose of the GFOA is to enhance and promote the professional management of governments for public benefit. This is achieved by identifying and developing financial policies and best practices through education, training, member networking and leadership. For more information on the awards program, visit gfoa.org.
-30-
Media Contact:
Christopher Tham
Communications Advisor (A)
905-615-3200 ext. 5934
christopher.tham@mississauga.ca
TTY: 905-896-5151