Oct 21, 2017



Today, teams of tech-minded individuals were on hand for the second annual hack day event Tech and the City. The event was co-hosted by the City of Mississauga in partnership with ICUBE UTM, Sheridan College, RIC Centre, SOTI Inc. and ESRI Canada. This year's theme was 'Building a Connected and Engaged City' which underlines the City of Mississauga's vision as a Smart City.

Each team was presented with three challenges and they had to select one and create a digital solution. The challenges were Connecting with the Environment, Creating a Business Exchange to support Business to Business (B2B) Connections and Connecting Mississauga Communities.

After hours of working and refining their solutions, each team had the opportunity to pitch their ideas to a panel of judges. One team for each category was selected as the winner.

And the winners are...
Sauga City Hack Squad for creating an app that provides Mississauga residents with a fun, interactive and digital experience by incentivizing the improvement of air quality through a points system.
Team Null for creating a Short Message Service (SMS) app to give Mississauga residents a way to connect with businesses without the use of Wi-Fi or mobile data plan.
Team Jazz Hands for creating a platform that allows users to connect with and get information of events in their city.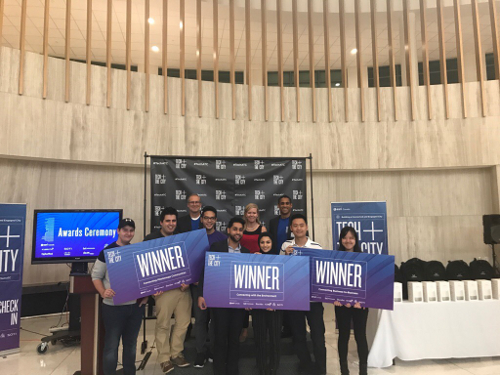 [Download hi-res image]
The winning teams will be enrolled in a sponsored accelerator program where their ideas can be brought to reality.
Congratulations to all the teams for participating in Tech and the City and for their innovative ideas to help build a more connected and engaged community.
For more information about Tech and the City and a full list of sponsors, visit techandthecity.ca.
The City of Mississauga has over 100 open data sets, find out more at data.mississauga.ca.
-30-
Media Contact:
Christopher Tham
Communications Advisor (A)
905-615-3200 ext. 5934
christopher.tham@mississauga.ca
TTY: 905-896-5151