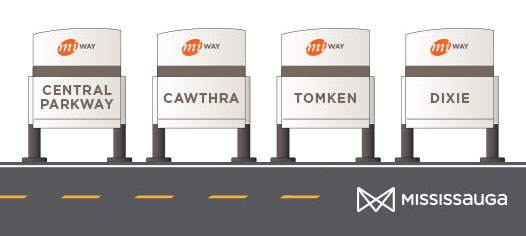 This media kit will support the media interested in covering the opening of Mississauga Transitway - Phase 1.
Please contact us if you require any further information about the first dedicated bus corridor in the Greater Toronto Area; for stock photos; or to request interviews.
Discover Your Station - Transitway Open House
On Saturday, November 15 from 10 a.m. - 3 p.m. join MiWay to celebrate the Phase 1 opening and enjoy a tour of all four stations, refreshments, giveaways and transit-related displays.
Board a MiWay tour bus at the City Centre Transit Terminal or at any of the four new transitway stations to take a free bus tour of the Mississauga Transitway - Phase 1. More information available here.
MiWay Service begins November 17
On Monday, November 17, MiExpress Routes 107 and 109 and MiLocal Route 21 will transition onto the transitway. Learn more about the MiWay routes that will help make your trip more efficient.
Media Resources
News Release: Official Opening of Mississauga Transitway - Phase 1
Media Advisory: Mississauga Transitway Phase 1 Officially Opens
About the Mississauga Transitway
Interesting Facts about Mississauga Transitway - Phase 1
Mississauga Transitway Time Savings
MiWay Service Map - Phase 1
Map: Mississauga Transitway Phase 1 Service Plan

Photo Gallery
Free, downloadable, high-resolution photos are available for editorial use by news media (non-commercial use only). Terms of Use.
Permission to use these images is granted only under the following conditions:

Each use should be accompanied by the credit line: City of Mississauga.
Using images for commercial use is prohibited and should not be done unless written consent is given from the City of Mississauga.
No permission is granted to use trademarks or watermarks on any of the images.
Any alteration or modification (other than sizing) is prohibited.
The City of Mississauga reserves the right to withdraw the permissions granted herein at any time.
City of Mississauga Media Contacts
For further information, to request an interview or if you cannot find what you are looking for, please contact:
Official Ceremony or information on the Mississauga Transitway:
Kimberly Hicks, 905-615-3200, ext. 5232
kimberly.hicks@mississauga.ca
Discover Your Station - Transitway Open House (Saturday, November 15):
Erin Beaudoin, 905-615-3200, ext. 3817 | 416-888-0472 (event day contact number)
erin.beaudoin@mississauga.ca
Government Partner Contacts
Vincent Rabault
Office of the Minister of Infrastructure, Communities and Intergovernmental Affairs and Minister of the Economic Development Agency of Canada for the Regions of Quebec, Ottawa
613-943-1838
Media Relations - Transport Canada, Ottawa
613-993-0055
Patrick Searle
Minister's Office
Ontario Ministry of Transportation,
Toronto
416-327-1815
Bob Nichols
Ontario Ministry of Transportation,
Toronto
416-327-1158
Social Media
Our Mississauga Transitway hashtag is: #MississaugaTransitway
Twitter Content:
Tweet This: On Nov 10, #MississaugaTransitway Phase 1 stations officially open - Central Parkway, Cawthra, Tomken & Dixie. #MiWay service starts Nov 17.
Tweet This: #DiscoverYourStation at the #MississaugaTransitway Open House on Nov. 15, 10 am - 3 pm. Free tours at all stations. http://ow.ly/DOR7W
Tweet this on November 15: Today, Nov.15 10 a.m.-3 p.m. #DiscoverYourStation at the #MississaugaTransitway Open House - free tours & prizes. http://ow.ly/DOR7W
Tweet this on November 17: Today is the first day of #MiWay service on #MississaugaTransitway. Take Routes 21, 107 & 109. http://ow.ly/DOSlA
Tweet This after Nov. 17: The #MississaugaTransitway is now open! Experience it on Routes 21, 107 & 109 http://ow.ly/DOR4J #MiWay #DiscoverYourStation