BraeBen 9 Hole 3 Par Course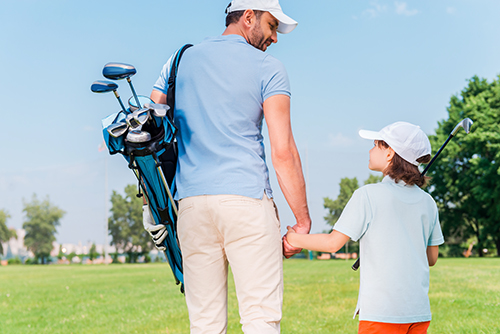 Juniors Play for Free!
For the rest of the golf season, juniors play free at BraeBen 9 hole golf course when they're accompanied by an adult player. What better way to teach the next generation about the great sport of golf!
*must be accompanied by a playing adult; limit 1 junior per adult player; effective starting September 3, 2019
Sign up for our Newsletter to stay in touch with us
Brand New Name - Same Challenge as always!
The BraeBen 9 Hole Golf Course borders the south end of our Championship Course and offers a variety of options for all ages and skill levels. Spend your time playing a round of 9 holes, taking in some our great golf instruction, or trying an unique twist to the game with FootGolf & FlingGolf – there is something for everyone within our 9 Holes!
This unique Par 3 9 Hole Course features holes measuring between 100-200 yards offers a great variety of shot-making tests and challenges. We offer private, semi-private lessons, clinics, camps and programs to help you improve and continue to enjoy the game of golf, right here in the heart of the city!
CLICK HERE for the BraeBen 9 Hole Course Scorecard
*All Prices Subject to Applicable Taxes
9 Hole Golf Course (Par 3)
WALK
Adult
(Mon - Thu Anytime)
(Fri-Sun, Holidays: Anytime)

$17.70
$22.12
Junior
(17 years & under: Anytime)
$13.27
Senior
(60 years & over: Anytime)
$13.27
Additional Rentals Available
Pull Cart Rental
(Per Player: 9 Holes)
$2.65
Club Rental
(Partial)
$13.27
*All Prices Subject to Applicable Taxes
Call us to book your tee time at 905-615-4653, press 2 for BraeBen Golf Course
Back to top