Facility Rentals
Are you looking for a unique location for your next work, social, or family get-together?

Consider the Museums of Mississauga.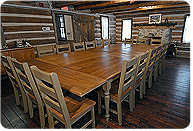 Our award winning retrofitted Log Cabin at Bradley Museum provides a country retreat tucked away from the everyday in the Clarkson area of Mississauga. We can provide a unique setting for corporate and community groups as well as wedding photographs.

The facility's main room has exposed log walls with the ambience of time gone by with all the modern conveniences to meet your needs. The landscaped grounds compliment the rustic house with lush gardens and a traditional flagstone walkway.

The Summer Kitchen at Benares Historic House features a lovely intimate theatre and social room space. See chart below for accommodation details.
Meeting/Exhibition Facilities
Facilities

Theatre

Boardroom/
Classroom

Social

Standing

Bradley Museum
Log Cabin

24

20

20

35

Benares Historic House
Summer Kitchen


24


0


24


35
If you'd like more information about specific rooms and facilities, please feel free to call us at the Museums at 905-615-4100, ext 2.
Photography Bookings
Have your wedding or family photographs taken at the Museums - outside in the lovely gardens or inside the historic interiors.

Outdoor Group Photography
All outdoor group photography, occurring between Friday and Sunday afternoons at either Museum site as well as at specific parks, must reserve and pay a fee to obtain a park permit.

Bookings are done 10 months in advance on a first come first served basis. A permit will reserve a 1.5 hour block of time, which includes arrival, photographs and departure from the park. Parking is limited to four cars per permit. For more information or to reserve park space please call the Customer Service Centre at: 905-615-4100.
Indoor Photography
Worried about the weather? The historic interiors of Benares Historic House, Bradley House, The Anchorage, or the Log Cabin can also be booked for your use for photographs at the same time as your outdoor booking. There is a limit of 15 people inside the houses at one time for pictures. No Food or Drink allowed inside (strictly enforced).
Children's Birthday Party Packages

Book your child's next birthday party with us and enjoy an old-fashioned celebration, featuring:
An interactive guided tour of the historic house by our museum interpreters

Hands-on baking activity over the open hearth

Children's craft

Social room space for food, cake, gift opening, etc.
Birthday packages at the Museums of Mississauga are designed for children aged 5 to 12 years and run for approximately 3 hours. Our rates are $173.60 (+ taxes) for up to 15 children and $10 for each additional child; maximum 20 children. Full payment is required at time of booking..

For further information on booking your child's next birthday party with us, please call the Museums at 905-615-4860.