Friends of the Museums of Mississauga
P.O. Box 52560, 1801 Lakeshore Road West, Unit 6, Mississauga, ON L5J 4S6
friendsofthemuseums@hotmail.com
| | | |
| --- | --- | --- |
| | | Launched in November 2005, The Friends of the Museums of Mississauga is an incorporated not-for-profit, charitable organization, with an established Board of Directors, bylaws, and an active schedule of events and activities in support of the Museums of Mississauga. |
The vision of the Friends of the Museums of Mississauga is to promote, strengthen and
support the Museums of Mississauga.

The mission of the Friends of the Museums of Mississauga is to engage volunteers and enhance community awareness through promotion, participation and fundraising to ensure the integrity of the Museums.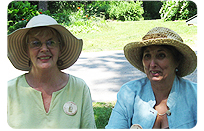 The Friends were responsible for the award-winning Log Cabin at Bradley Museum project, raising $40,000 through their annual Starlight and Candlelight Galas, as well as an additional $120,000 in cash plus $200,000 in donated goods and services. The Friends have provided significant funding for the conservation of artifacts, hands-on reproductions for programming, and provide bus subsidies for schools attending programs at the Museums. Membership starts at just $10 a year! Be a good Friend and join us! Click here for an online application to become a Friend of the Museum.

Volunteering at the Museums
Volunteers are crucial to the success of the Museums of Mississauga, and we welcome you to join us, whatever your age and interest!!
Do you have to complete your 40 hours of community service in order to graduate from Secondary School?
Do you have an interest in antiques, research, or photography?
Would you like to develop new skills and make new friends?
Would you like to help us with special events and/or fundraising?
Interested in working with the Artifact Group or the Gift Shop Volunteers?
Attend the Friends of the Museums Christmas Open House
Please complete the volunteer application form and forward it to the Museums. To get more information, please email our Volunteer Coordinator, Kelly Kubik or call her at 905 615 4860 ext. 2111.

Attention Teachers!!!
The Friends of the Museums are offering to fund FREE bussing for school trips to the Museums of Mississauga on a 'first come, first serve' basis. This opportunity is intended for Mississauga schools that might not otherwise be able to book an education program with us and require assistance. This opportunity will be limited to two busses per school on a single date per calendar year for an educational program at either site – Bradley Museum or Benares Historic House. To inquire about funding, please contact Isabel Palferro, Administrative Coordinator, Museums of Mississauga at isabel.palferro@mississauga.ca or 905-615-4860 ext. 2107.

Please note the following details in your letter:
• Date of school trip currently booked at the Museums of Mississauga
• Name of program and site location
• Grade level and number of students attending
• Cost of bussing required
• Brief explanation for request
Please allow three weeks for a response.

Friends of the Museums Events & Activities
Special events offered year round.

Family Events
Throughout the year, the Museums of Mississauga offer fun family-oriented special events and activities.
Details

Friends of the Museums Newsletter
Volume 1, Winter 2014
Details

Volume 2, March 2014
Details
Volume 3, Spring 2014
Details


Sponsorships
Thank you to all our sponsors for their support.


For information on our Friends & Partners Sponsorship Program, please contact friendsofthemuseums@hotmail.com


Leslie Log House Sponsors

Project Management: Facilities and Property Management, City of Mississauga
Architects: GEORGE ROBB ARCHITECT
General Contractor: RBG Inc

Click here to find out more about the Leslie Log House.

Architect: Michael Spaziani Architect Inc.
Mechanical Engineer: CBM Group Ltd.
Structural Engineer: Blackwell Bowick Partnership Limited

Click here to find out more about the log cabin.
Donations
Your donations are appreciated at the Museums of Mississauga!

Your donation to the Friends of the Museums will go towards the enhancement of educational
programming and artifact conservation at the Museums. Friends of the Museums of Mississauga are an incorporated, not-for-profit Registered Charity (#82229 3619 RR000). Charitable receipts issued for amounts over $10. To donate, please click here!

Memorial Donations
You can make a donation in memory of a family member, friend or colleague, and The Friends of the Museums of Mississauga will send a card on your behalf acknowledging your thoughtful donation. You can personalize the card by adding your own message if you wish. You will receive an official charitable donation receipt acknowledging your donation of over $10. Click here to fill out a memorial donation form.
In Memory
To all the museum staff* and volunteers below who have passed away, we cherish their memories in our hearts. To view the museum's memorial volunteers, please click here.
John Davies
Pat Dixon
Gertrude Hammill
Margaret Lawrence
Jean Lindsay
Michael London
Joan Reid
Betty Ross
Jonathan Rucinski *
Jane Shrimpton
Knowle Shrimpton
Carol Steeves
Amie Stoddard *
Jack Thorne
Diana Webb