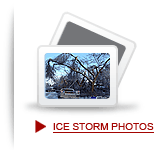 Thank you for your patience and cooperation as the City of Mississauga continues to respond and cleanup from the impacts of the ice storm on December 22, 2013. The impact of this storm was extensive and it will take the City quite some time to recover and restore the damage on City-owned property. New information will continue to be posted on this page.
News Releases: Ice Storm Recovery
Use Caution and Be Safe
Please use caution in City parks and on trails as we continue to clean-up fallen trees and debris.
Dealing With Tree Damage & Debris
Report Damage to City Trees
Residents are asked to call 311 or 905-615-3000 to report damaged or fallen City trees such as those on boulevards and in parks.
Removal of Tree Debris
The Region of Peel's special curbside collection of ice storm-related debris and brush ends after regular collection on Friday, January 24.

The Region will continue to provide the following services to help residents' clean-up efforts:
waiving Community Recycling Centre fees for storm-related brush until further notice
additional ice storm-related brush collection in early spring - timing will be announced in the spring, details will be provided as they are confirmed
*Malton Residents and Businesses: please see special message below regarding debris clean-up and disposal.
For more information on waste management services, please visit the Region of Peel's website: www.peelregion.ca or call 905-791-9499.
Trees on Private Property
The City of Mississauga's Private Tree Protection By-Law 254-12 applies to all trees on private property including trees damaged during the recent ice storm. The By-law was suspended due to the ice storm but as of February 1st 2014, the By-law has been reinstated.
Trees on private property are the responsibility of the property owner. For larger trees and debris, it is recommended that a professional private tree contractor be called to complete the work. City crews cannot go onto private property to clear private trees that have fallen on private property.
Property owners can remove structurally unsound trees under 15 cm (6 in) in diameter on their own property without a permit. Property owners removing three or more trees larger than 15 cm (6 in) in diameter require a permit. Visit the Private Tree Protection By-law page for complete details.
The cutting and removal of trees and related debris is a specialised skill and we encourage residents to hire a professional arborist to do the work for them.
Learn more about the City's forestry program.
Special message to Malton-area residents/businesses
The Canadian Food Inspection Agency (CFIA) has established a regulated area in parts of the cities of Mississauga and Toronto to prevent the spread of ALHB. The regulated area includes sections of the Malton community. This prohibits residents and businesses from moving firewood, branches or other materials out of the regulated area unless authorized by the CFIA. Please note: fallen trees and branches in the Asian Long-horned Beetle quarantine area of Malton must remain on site.
Malton Residents are encouraged:
To bring storm-damaged tree debris to 2699 Drew Road (north of Derry Road East and east of Torbram Road, Monday to Saturday from 8 a.m. to 5 p.m.
Business owners can also bring storm-damaged tree debris to 2699 Drew Road, Monday to Saturday from 8 a.m. to 5 p.m. or make arrangements with their contractors to dispose of wood waste, packaging material and tree debris as per CFIA regulations to avoid spreading ALHB.
ALHB and tree/wood debris disposal Instructions
---
Where Can I Get More Information?
City of Mississauga Resources:
Power Outages
You can find out about current power outages in and around your area by visiting Enersource.com and viewing their live outage map or by calling 905-273-9050. You can also report a power outage to Enersource.
Natural Gas
Call Enbridge Gas Distribution if you smell gas or to report an emergency such as a damaged pipe or meter or visit their website. If you need a natural gas appliance to be relit after power is restored, please contact a heating contractor. You can find a listing of service providers online.
Credit Valley Conservation Authority
The Credit Valley Conservation (CVC) is asking area residents not to put tree debris in the Credit River, local creeks, streams, or other watercourses. Tree debris from the recent ice storm can cause a jam downstream and increase flood risk now and into spring. caution around waterways due to icy conditions and potential flooding. Call 905-670-1615 to report a flood; after hours, call 1-800-215-8505. Visit the Credit Valley Conservation Authority's website for more information. Follow CVC on social media: Facebook and Twitter.