| | |
| --- | --- |
| | Accessible Services |
Accessibility at MiWay
All MiWay buses are accessible
Low floor, kneeling buses equipped with ramps allow passengers to board and exit the bus with ease. Each bus has two wheelchair/scooter securement areas located at the front of the bus.
External stop announcements
All bus announcements include the route name, number and direction to assist passengers at stops.
Automated next stop announcements
Voice and Visual Stop Announcement Systems announce and display pre-recorded stop information, prior to arriving at a stop. In addition to the automated announcement of stops, information is displayed visually over on-board display signs, allowing passengers to see the stop information as it is announced.
Accessible stops
Bus stop pads are installed at every stop (where feasible) and connect with the existing sidewalk network. Where barriers exist (including temporary barriers such as road construction or winter snow) at a bus stop, transit operators will ensure that passengers are able to board and exit the bus at a safe location.
Bus shelters
Shelters have a large entrance opening and platform area, ensuring sufficient room to manoeuvre wheelchairs and scooters.
Please note:
A limited number of stops along routes may not be accessible due to the absence of sidewalks, and/or insufficient road right-of-way.
Islington Subway Station (Toronto) is not an accessible terminal.
Stops may also be temporarily inaccessible due to construction, weather, or damage.
Look for the blue international wheelchair symbol on all accessible buses and stops.
Mississauga Transitway
All stations are accessible and feature elevators or ramps where applicable. For easier navigation inside the stations, between all entrances and the elevators, tactile wayfinding strips are installed.
Priority Seating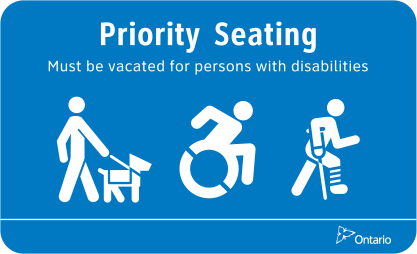 Seats at the front of all MiWay buses are reserved for passengers with disabilities. The Accessibility for Ontarians with Disabilities Act, 2005 (AODA), requires all Ontario public transit authorities to provide designated Priority Seating at the front of the bus for people with disabilities.
This ensures that priority seating on buses is there for people who need it. People of all ages with mobility and other disabilities will be assured of easily accessible places to sit. Customers are expected to respect and obey the purpose of the designated seating area, which means if you are sitting in one of these designated seats, you MUST vacate the seat for a passenger with a disability.
Please note: Operators are not required to intervene to enforce the requirement. We ask, however, that you show consideration for those whose need is greater than your own.
Support Person
Customers must have the ability to manoeuvre their wheelchairs/scooters safely and effectively. Those who need assistance to board, pay their fare, access the seating area or exit, must be accompanied by a Support Person.
A Support Person is a person whose presence is essential to provide care and assistance to a passenger with a disability, regardless of the nature of their disability. A Support Person secures the mobility aid and assists the customer in boarding and exiting the bus. Either the passenger with a disability or the Support Person, must inform the Operator upon boarding that the passenger boarding requires a Support Person.
Only a single fare is required when a passenger with a disability travels with a Support Person (this includes CNIB card holders). One passenger pays a fare, the other passenger rides at no cost.
Service Animals
Any animal that provides essential assistance to a person with a visible or invisible disability. If the animal is not wearing a vest or harness that identifies it as a service animal, the customer must provide a letter from a regulated health professional confirming that the animal is being used for reasons relating to their disability. For more information, please refer to the Integrated Accessibility Standards Regulation.
Emergency Preparedness
All MiWay operators are trained to give you detailed instructions on what to do in an emergency. MiWay operators and supervisory staff will work together to ensure the safety of all passengers in an emergency situation.
Boarding and Exiting the Bus Instructions
View step and step instructions on how to board and exit the bus.