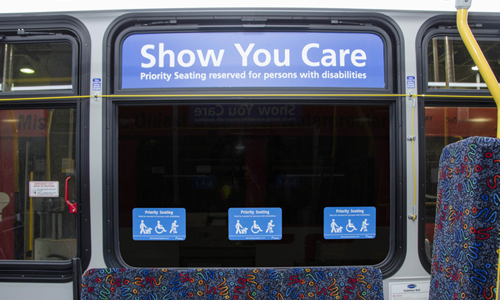 Priority Seating Pilot Program
MiWay is implementing a new Priority Seating Pilot Program in 2018 on its newest Nova buses to remind customers that the Priority Seating area at the front of each bus is reserved for persons with disabilities.
The pilot program includes new interior window decals seen in the picture above, which will be installed and located above the Priority Seating area:
A "Show You Care" decal on the top window (that opens)
Bright new "Priority Seating" window decals above each seat
The new signage is compliant with the Integrated Accessibility Standards Regulation (IASR) and the decals were created in partnership with Ontario Public Transportation Association (OPTA).
If you would like to share your feedback concerning this pilot program, please contact us at miwayhelps@mississauga.ca.