When you're ready to ride,
MiWay runs better for everyone.
Travel on MiWay
 Whether you are a first time customer or a seasoned transit expert, here are five tips to help you get ready to ride MiWay.
Be at your stop five minutes early and check when your bus will arrive at miway.ca/planatrip.
Please let people exit the bus before you enter.
If you're standing on the bus, make sure you're behind the yellow line and holding the hand rails.
Be respectful of customers, drivers and all MiWay staff members.
If you've left something behind on a MiWay bus, contact Customer Service at 905-615-4636 (Option 4) to inquire about lost and found items.
Priority Seating is Reserved for Customers with Disabilities

Please allow customers with disabilities to board the bus first. Seats at the front of all MiWay buses are reserved for customers with disabilities only. You must vacate these seats for customers with disabilities.
Use the Transit Wave if you Travel Outside the City
If you are travelling with MiWay in Etobicoke, Brampton or Oakville, you must wave to alert the Transit Operator that you are waiting for the bus. Otherwise, the driver will assume you are waiting for the local transit system bus.
If the bus approaching is not your bus, take a step back to signal to the Transit Operator that you are not waiting for that bus.
Please be sure to wave in plenty of time to allow the driver time to slow the bus and come to a safe stop.
Don't Chase a Moving Bus
Running for a moving bus is dangerous and can lead to an accident. If the bus is already moving away from the stop, don't chase it or try to get the Transit Operator's attention. For everyone's safety, Transit Operators are not allowed to let anyone board once the bus has left the stop. Please be at your stop at least five minutes early.

No Smoking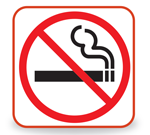 Smoking and vaping are not permitted on any MiWay bus, in bus shelters or at bus terminals.
Stand Behind the Line After Boarding
When boarding, please move toward the back of the bus.
You must remain behind the yellow line.
Alcohol and Hazardous Substances are Not Allowed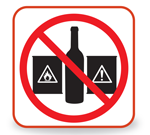 Toxic, flammable or hazardous substances are not permitted on any MiWay bus, in bus shelters or at bus terminals. The consumption of alcohol or illegal drugs is not permitted on any MiWay bus, in bus shelters or at bus terminals.
Service Procedures in Toronto
MiWay will continue to follow its pick-up and drop-off procedures when servicing bus stops in Toronto.
Passengers riding our buses into Toronto may exit the bus at designated bus stops in either Mississauga or Toronto. Passengers may not board a MiWay bus within the City of Toronto's boundaries while it is travelling into Toronto.
Once a MiWay bus has begun its return trip to Mississauga from Toronto, passengers may board that bus at any TTC bus stop serviced by us - they just have to wave at the bus to signal to the Transit Operator that they are waiting to board.
Passengers may not exit a MiWay bus within the City of Toronto's boundaries while it is travelling to Mississauga. However, passengers may transfer from one MiWay bus to another MiWay bus in Toronto, and exit the bus in Toronto, only on outbound trips from Toronto. To do so, passengers must meet these conditions:
The passenger's travel must be part of one continuous trip;
The passenger must show the Transit Operator their MiWay transfer as they board the second or connecting bus;
The passenger must inform the Transit Operator (of the second or connecting bus) that they wish to exit the bus in Toronto
The passenger must exit the second or connecting bus in Toronto by the front doors and give their MiWay Transit transfer to the Transit Operator.
Note: Customers on a continuous trip using the same bus must exit the bus at the stop outside of Islington Subway Station. Please re-board at the stop on Bloor and Green Lanes.
Transit By-law 425-03
Travel with...
Do you have a question about travelling with one of the items listed below? Click on each section for more information.
A Backpack
When boarding the bus, remove your backpack and hold it in front of you. When seated, place the backpack on your lap. Backpacks should not prevent another customer from being seated.

A Stroller
Strollers, buggies and large articles are only allowed when there is space and it does not affect other customers. Customers are required to carry on and carry off their own items. For the safety of all customers, the aisles must not be blocked.

A Service Animal
A Service Animal is any animal that provides essential assistance to a person with a visible or invisible disability. 
If the animal is not wearing a vest or harness that identifies it as a Service Animal, the customer must show the Transit Operator official documentation from a regulated health professional confirming that the animal is being used for reasons relating to their disability.
The customer is responsible for the behaviour of the Service Animal and ensuring it does not cause a disturbance or threaten the safety of others.

A Light Snack
Light snacks are allowed, however all food and drinks must be properly contained. All litter must be taken off the bus and disposed of responsibly.
A Bike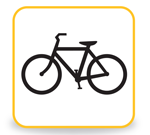 Bike racks can carry two bicycles.
Bicycles can be transported in the bus when the racks are full or inoperable, at Transit Operator's discretion when there is space in the bus and other customers are not inconvenienced.
Bicycles must not block the aisles.
Click here to learn how to use our bus bike racks.
A Pet
All pets must be leashed or contained in an animal cage. For the comfort and safety of other customers, the Transit Operator may refuse to allow animals on board. Exotic animals are not allowed on board.

Music
Listening to a music device with earphones is permitted, as long as the volume of the device is at an acceptable level and does not disturb other customers or the Transit Operator.

Sports Gear
Wearing in-line skates, roller skates, ice skates or use of a skateboard is not allowed on any MiWay bus, in bus shelters or at bus terminals. Shirts and shoes must be worn on board buses.

Transitway Safety

The Mississauga Transitway is a dedicated bus corridor for buses and authorized vehicles only. For safety reasons, pedestrians, cyclists and private vehicles are not permitted on it.
MiWay works in partnership with area police services and transit enforcement to ensure the transitway is safe for everyone.
Walking on the Mississauga Transitway
Walking on the transitway between stations is not permitted.

At a station, if you need to cross between the eastbound and westbound platforms, please do so at street level.

At the following stations, there are designated areas for pedestrian crossing:

Cawthra Station - There is an accessible ramp to a pedestrian tunnel between the eastbound and westbound platforms.

Winston Churchill Station and Erin Mills Station - There are pedestrian crossing zones at the east and west end of the platforms.
Cycling and the Mississauga Transitway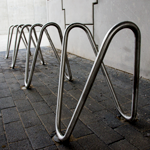 Cycling is not permitted on the transitway.
Each station is equipped with bike racks so you can lock up your bike.

The stairs have a bicycle roll up which allows customers to easily move their bike from ground to platform level.

The bike racks on MiWay buses can carry two bicycles. Click here to learn more about our bus bike racks.
Pick-Up and Drop-Off Areas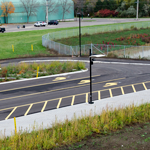 Dedicated pick-up and drop-off areas are available at Winston Churchill, Erin Mills, City Centre Transit Terminal, Central Parkway, Cawthra, Tomken, Dixie and Renforth Stations.
Parking is available at Cawthra (60 spaces) and Dixie Station (170 spaces).
Click here to view the station maps.
Station Signage
| | |
| --- | --- |
| | Departure Displays/Bus Stops - Digital signs on each platform will display bus departure times. MiWay will pick up and drop off customers from Platform 'A' on all eastbound trips and Platform 'B' on all westbound trips. |
| | Emergency Exits - Emergency exits are located on each platform. Should an emergency occur on the platform level, please move safely through the gates and continue onto the paved sidewalk. |
| | Emergency Call Button - If you require immediate assistance, an emergency call button is located inside the station that connects directly to the City of Mississauga's Corporate Security team. |
| | Wayfinding - Wayfinding signage is available throughout the stations to assist customers. |
Safety Services
Request a Stop at Night
If you have concerns for your safety, this program allows you to exit the bus at locations other than MiWay bus stops.
Simply speak with the Transit Operator at least one stop ahead of where you wish to get off the bus and we'll let you off as close to your request as possible.
To meet your request, the Transit Operator must be able to stop safely.
For added safety and security, please exit by the front doors at 'requested' stops.
This program is available on MiLocal routes only (not available on MiExpress routes.)
Security Cameras are Installed on all Buses

Bus surveillance systems are an effective tool in the detection of crime and the prosecution of offenders. They are an industry accepted addition to transit system safety and contribute to the security of passengers and drivers.
Information collected from the surveillance will be used:
to provide law enforcement agencies with evidence related to an incident under investigation,
to investigate a critical bodily injury as defined by, and reported to the Ministry of Labour,
to respond to a request under MFIPPA,
to aid in an investigation of an insurance claim filed against the City
The policy was written in compliance with the Municipal Freedom of Information and Privacy Protection Act (MFIPPA), the City of Mississauga By-law 425-03 and recommendations from the office of Information and Privacy Commissioner.
This policy is available here:
Video/Audio Surveillance - Corporate Policy and Procedure
Call Transit Enforcement at 905-896-5040
Transit Enforcement Officers work in partnership with area police services and other security units to ensure that our passengers can enjoy a safe ride. These officers provide added security for our Transit Operators and customers.
You can recognize a Transit Enforcement Officer by his or her uniform, which includes a black vest over a grey shirt. You may see one patrolling a transit terminal, interacting with the community at various events or helping someone in need.
Feel free to approach a Transit Enforcement Officer if you have a safety concern.
You can remain anonymous when calling 905-896-5040 to report an incident or concern.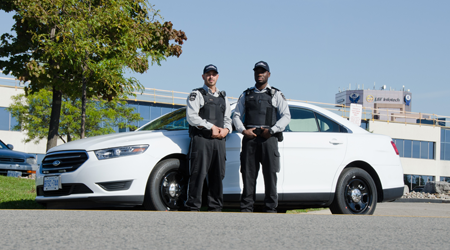 Accessible Services - Emergency Preparedness and Response Policy
pcomapp02:8854