Land Division
There are several different ways to divide land; however the most common way is through a consent application. This is also referred to as "lot severance" or "land division". A consent application is made through the Committee of Adjustment; click here for more information on the consent application process.
Land severance is the authorized separation of a piece of land to form a new lot or a new parcel of land.
Amongst other things, in order to sever/divide a lot, each lot must comply with all of the Zoning by-law regulations. One of the main determining factors is compliance with the minimum lot area and minimum lot frontage.
To confirm the minimum lot area and frontage for a property:
Visit www.mississauga.ca/howtozoning to determine the zoning of the property
Visit the applicable part of the Zoning by-law by clicking www.mississauga.ca/zoningbylaw
Consult the zoning regulations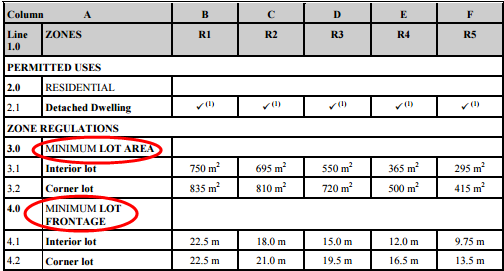 (The above image is a sample only and should not be used for Zoning information)
NOTE: ONLY ONE DWELLING IS PERMITTED PER LOT