The zoning by-law lists permitted uses in each zone. Different types of businesses are categorized into different
uses
which can be referenced in the
definitions section 1.2
.
A zone will identify what uses are
typically
permitted, however, it cannot be confirmed that the use complies with all zoning regulations (parking, separation distances, outdoor storage, approvals from other agencies, or any other applicable regulations) until it is approved by a
Zoning Certificate of Occupancy
.
No business use can be changed to another type of use without first obtaining a
Zoning Certificate of Occupancy
.
If you're planning to start a business, you should confirm that your type of business is permitted by the zoning by-law.

Confirm the
zoning of the property
.

Check the permitted uses indicated under the zoning designation and
2.1.9 for Uses Permitted in More Than One Zone Category
. Where a
&#x2713
symbol appears in a table it shall mean, when associated with a
use
in a specified zone, that the
use
is TYPICALLY permitted in that zone. Note: All
bolded
words shown are defined in the zoning by-law and a use must fit within a specific definition in order to be considered that use. See example below: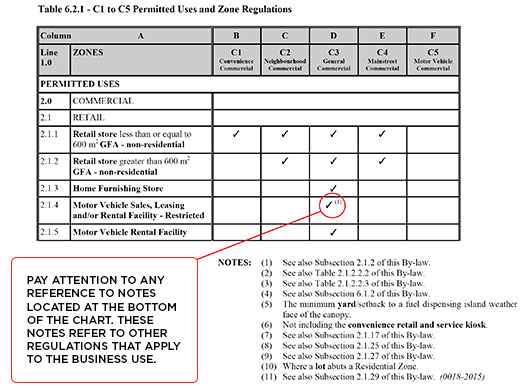 Apply for a
Zoning Certificate of Occupancy
. Confirm with zoning staff to determine whether or not a Zoning certificate is required.