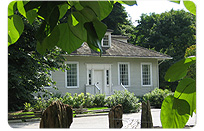 The Anchorage
Open the doors to the 19th century and discover the Bradley Museum. Your journey begins at our Visitor Centre in The Anchorage, an Ontario Regency style cottage on the grounds of the museum. Once the retirement home of Royal Navy officer, John Skynner, the early 19th century home was moved from its original site on the shores of Lake Ontario to the Bradley Museum in the mid 1970s. The Anchorage now houses changing exhibits, gift shop, meeting room, administrative offices and collections storage space.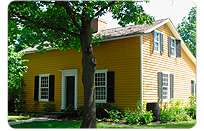 The Bradley House
A short walk across the grounds brings you to a small saltbox style farmhouse that was constructed in 1830 by Lewis and Elizabeth Bradley. After 20 years in a rugged cabin, this United Empire Loyalist couple and their seven children called this modest house home. Bradley House opened to the public in 1967. It was originally restored by the Mississauga Heritage Foundation to reveal the everyday life of early settlers in Ontario.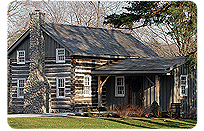 The Log Cabin
Across the drive, sits the delightful, award-winning Log Cabin, added to the Bradley Museum site in 2007. Originally slated for demolition at its Port Credit location, the cabin was rescued and reconstructed through a great community effort, and now offers year round use for educational programs, meetings, receptions, special events and sleepovers for children's community groups. The Bradley Museum is owned and operated by the City of Mississauga, Community Services Department.
Read more about the log cabin.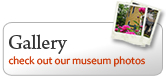 Read more about Bradley Museum click here

Contents:
About Lewis and Elizabeth Bradley
Lewis and Elizabeth Bradley's Children
Move to Upper Canada
Bradley House Architechture
United Empire Loyalists



John Skynner & the Anchorage

click here