Burnhamthorpe Community Centre Outdoor Covered Rink


1500 Gulleden Drive, 905-615-4630
Whether you're an individual looking for a place to skate for fun or a team looking for a place to play or practice, the Burnhamthorpe Outdoor Rink has all the amenities you need!
Two 420 square feet heated dressing rooms
Quality artificial ice refinished by the zamboni
100x100 square ft playing surface, entirely covered by a gazebo like-structured roof , we play rain, snow or shine
Players benches, rink boards, and glass surround the entire playing surface.
The rink is located within steps of the
Chic Murray indoor arena
and
Burnhamthorpe Community Centre
which have additional amenities such as a gymnasium, multi use rooms, and more.
For more information, download our PDF file
here
.
For the latest skating schedule please call us at 905-615-4630 or check out our drop in tool
here
.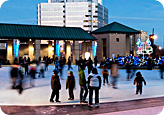 Mississauga Celebration Square Ice Rink
300 City Centre Drive,
Mississauga Celebration Square's outdoor ice rink is one of the largest in the GTA. The rink will be open seven days a week from 10 a.m. to 10 p.m. all winter long. Bring your skates and join in the fun at the official opening of the rink on Saturday, November 26!
Click Here for Skate Rental Rates and More Information

Woodhurst Heights Park Outdoor Skating Rink
3475 Ash Row Crescent, 905-615-4770
Woodhurst Heights is a great neighbourhood rink for public skating. Located behind the Glen Commons plaza at Glen Erin Dr. and the Collegeway. You can walk to the rink using the Glen Erin Trail or from Woodhurst Cres. or Ash Row Cres. Open 10 a.m. to 9 p.m. daily (weather permitting). All programs are free!

Outdoor Natural Ice Rinks
Some neighbourhoods organize a rink at their local park. The Parks Division provides the rinks boards, rink hut and shovels; volunteers provide the people power. Please note that conditions of the rink are subject to weather and volunteer man power.

For a listing of outdoor natural skating rink locations, please click here or call 3-1-1.