HEAT ALERT
Due to the extremely hot weather forecasted for the GTA, the City of Mississauga has issued a Heat Alert. Check out our home page for more information.
HEAT ALERT
Due to the extremely hot weather forecasted for the GTA, the City of Mississauga has issued a Heat Alert. Check out our home page for more information.

The Lions Club of Credit Valley Outdoor Pool (formerly Port Credit) will be open to the public for a Fun Swim from 4pm - 7pm this evening, weather permitting. For more info or to confirm pool times, please contact 905-615-4840.
What's Happening

Fall programs at Erin Meadows Community Centre & Churchill Meadows Activity Centre

Check out the exciting programs for fall. Let us help you stay active and healthy.

See Schedule

Bring a Friend for 3 FREE Visits!

Your guests can join you and enjoy all of the benefits of membership. Limited time offer October 10-31, 2017

Learn More

Give Healthy Halloween Treats

Swim/skate tickets for kids 4- 15 on sale now online, at community centres and some arenas.

$5 for 10 tickets while supplies last.

Register For Fall/Winter Programs

Get ready for programs & activities that keep you active, healthy & connected. Sign up online beginning August 12.

Find Programs

Time To Use That Gift Card

Don't lose it, use it! Sign up for programs, buy a membership, swim/skate pass, food & more.

Learn How

NEW! CO-ED BEACH VOLLEYBALL

Get ready to block, spike & score on the new outdoor courts at Lakefront Promenade. Register now for summer leagues.

Playmsl.ca

Older Adult Membership Benefits

Older adults can take advantage of discounts for fitness, aquatics and skating passes on membership fees and registered programming.

More Membership Info Here

Online Memberships Now Available

Not only is your health and wellness important but so is your time We made purchasing your membership even easier.

Learn All About Memberships

Fitness Programs Now Only Online

We've moved all fitness programs online Search our complete list of fitness programs and register early

Find Programs Here

Drop In Fitness Classes Access Changes

To provide fair access for all customers our drop in fitness are first come, first served. Speak with the Program Supervisor at your nearest location or check out our FAQ for more info.

Download The FAQ Here

Stretching

Stretching is an important aspect of a complete workout that is often neglected...

Read More About This And Other Tips
Fitness Centre locations
Exercise on your own schedule and at your own pace. Your Fitness Membership gives you access to all 11 fitness centres across Mississauga.
Fitness Centre Locations
-
Mississauga SportZone Fitness Centre
5600 Rose Cherry Place, Mississauga, ON, L4Z 4B6
Phone: 905-615-3200 x2895
Mon-Fri 7:30 am-11:00 pm | Sat & Sun 7:30 am-9:00 pm

Huron Park Fitness Centre
830 Paisley Blvd. West., Mississauga, ON, L5C 3P5
Phone: 905-615-4820
Mon, Wed, Fri 6:30 am - 10:00 pm
Tues & Thur 8:00 am - 10:00 pm
Sat & Sun 8:30 am - 5:00 pm

Malton Fitness Centre
3540 Morning Star Drive, Mississauga, ON, L4T 1Y2
Phone: 905-615-4640
Mon-Thurs 6:30 am - 10:30 pm | Fri 6:30 am - 10:00 pm |
Sat & Sun 8:30 - 6:00 pm

Meadowvale Fitness Centre (NOW OPEN)
6655 Glen Erin Drive, Mississauga, ON, L5N 3L4
Phone: 905-615-4710
Mon - Fri 6:00 am - 10:30 pm | Sat & Sun 7:00 am - 7:00 pm

River Grove Fitness Centre
5800 River Grove Ave., Mississauga, ON, L5M 4R8
Phone: 905-615-4780
Mon - Fri 6:00 am - 10:30 pm | Sat & Sun 7:00 am - 7:00 pm


South Common Fitness Centre
2233 South Millway, Mississauga, ON, L5L 3H7
Phone: 905-615-4770
Mon - Thur 6:00 am - 10:00 pm | Fri 6:00 am - 9:30 pm
Sat & Sun 8:00 am - 5:00 pm

Terry Fox Fitness Centre (Located in the Mississauga Valley CC)
1275 Mississauga Valley Blvd, Mississauga, ON, L5A 3R8
Phone: 905-615-4670
Mon-Thu 6:00am - 10:30pm | Fri 6:00am - 10:00pm |
Sat & Sun 7:00am - 4:30pm

Group drop in exercise classes are offered at the following locations and are part of your Fitness Membership.
Active Living Centre Locations
+
Active Living Programs (group exercise classes) are offered at the following locations. Fitness Memberships can only be used for Drop In programs at participating locations.

Group drop in exercise classes are offered at the following locations and are part of your Fitness Membership.

Burnhamthorpe Active Living Centre
Use your Fitness Membership here!
1500 Gulleden Drive, Mississauga, ON, L4X 2T7
Phone: 905-615-4630
Customer Service Hours


Carmen Corbasson Active Living Centre
Use your Fitness Membership here!
1399 Cawthra Road, Mississauga, ON, L5G 4L1
Phone: 905-615-4800
Mon-Fri 8:30 am - 8:30 pm | Sat & Sun 8:30 - 1:00 pm

Clarkson Active Living Centre
Use your Fitness Membership here!
2475 Truscott Drive, Mississauga, ON, L5J 2B3
Phone: 905-615-4840
Mon-Thu 7:00 am - 9:45 pm | Sat - Sun 7:30 am - 4:00 pm

Erin Meadows Active Living Centre
Use your Fitness Membership here!
2800 Erin Centre Blvd, Mississauga, ON, L5M 6R5
Phone: 905-615-4750
Mon - Fri 8:00 am - 9:00 pm | Sat & Sun 8:00 am - 4:30 pm

Frank McKechnie Active Living Centre
Use your Fitness Membership here!
310 Bristol Rd. E., Mississauga, ON, L4Z 3V5
Phone: 905-615-4660
Mon-Fri 9:00 am - 9:00 pm | Sat 8:45 am - 4:30 pm | Sun 8:30 am - 3:00 pm | Closed Statutory Holidays

Port Credit Memorial Arena
Use your Fitness Membership here!
40 Stavebank Road N, Mississauga, L5G 2T8
Phone: 905-615-4830
Closed Statutory Holidays

Courtneypark Branch Library and Active Living Centre
730 Courtneypark Dr. W., Mississauga, ON
Phone: 905-615-4710

Churchill Meadows Branch Library and Activity Centre
3801 Thomas Street, Mississauga, ON
Phone: 905-615-4750
MEMBERSHIPS AND RATES
Bring a friend for 3 FREE visits!
Limited time offer October 10-31, 2017
Your guests can join you and enjoy all of the benefits of membership.
If you don't know a member, that's ok...come see us anyway!
Free 45 minute starter session with a personal trainer
Weight equipment
Cardio equipment
Drop in exercise classes
Recreational swimming & skating
Squash courts
Sauna/steam rooms
During this special promotional event, we invite you and your guests to take advantage of special clinics, classes and seminars on diet, exercise and weight loss.
Pick up referral cards from any of the participating locations:
Huron Park Recreation Centre
Malton Community Centre
Mississauga Sportzone
Mississauga Valley Community Centre
South Common Community Centre
Members can invite as many guests as they like, there's no limit. Current member does not have to be present at the time of offer registration or for each visit. Valid for new members only (persons who have not been a fitness member with the City of Mississauga within the past 3 months). One free trial offer per person. All three free visits must take place between October 10 - October 31, 2017. Fitness centre guidelines apply. Offer not redeemable for cash.
Drop in Exercise Classes are included
Access over 200 drop in exercise classes at our Fitness Centres with your membership. Check out the Drop In Tool for available fitness classes by day, time and location. For more info, check out the FAQ or view our Fitness Centre and Active Living Centre locations here .
How much does a Fitness Membership cost?
Click the Fitness Rates link below to view membership and single visit prices. Memberships can be purchased online at activemississauga.ca.
Also includes: registered exercise classes, add on options, personal training, squash and walking track rates



What's Included in Your Fitness Membership?
Your Fitness Membership gives you access to any of the following amenities.
Free 45-minute Starter Session
Annual Members receive a free, 45-minute starter session with a Personal Trainer who will provide you with a basic exercise program to help you achieve your goals.

Weight Equipment
Whether you are a beginner or veteran, a wide selection of machines and free weights will help you get the most out of your workout.

Cardio Equipment
An assortment of treadmills, ellipticals, steppers, bikes and rowing machines gives you a variety of options.

Squash Courts
International sized squash courts are available at Terry Fox, Meadowvale, River Grove and South Common Fitness Centres.

Group Drop In Exercise Classes
With a wide range of drop in classes at Fitness Centre locations from Pilates-Fit and Yoga-Fit to Cardio Pump and Gentle Low Impact, there is something to suit every interest and goal.

Admission to Classes with Fitness Membership are honoured at Fitness Centre locations. Click here for a listing of the centres.

Go Swimming
Your fitness membership includes access to recreational swims at any one of our 18 indoor and outdoor pools across Mississauga.

Go Skating
With access to Fun, Adult & Senior Public Skating, available at most arena locations.
Add On Options
Specialized amenities are available as separate or add-on options. Please see rates below for applicable fees.
Walking Track Membership
Cawthra Community Centre offers a state of the art Indoor Walking Track, providing a safe and climate controlled walking environment year round.
Fitness Boxing Studio
Train like a boxer and gain all the conditioning benefits, at Huron Park Recreation Centre. Heavy Bag, target mitts, double-end and speed bags are used during workout.
Cycling Studio
Both Erin Meadows and Mississauga Valley Community Centre are equipped with Stationary Bikes.
Fitness Programs
What are Fitness Programs?
Our Fitness Programs are group exercise classes offered at all 11 fitness centre locations across Mississauga.
REGISTERED FITNESS PROGRAMS

If you can only work out once a week, register and pay up-front for a fitness class offered at any of our Fitness Centre locations.





DROP IN FITNESS PROGRAMS

If you don't want to commit to a specific class, drop in to any one of our Fitness Classes and pay-as-you-go for the program.



The foundation of exercise training in cardiac rehabilitation programs has been the exercise prescription. When a cardiac rehabilitation clinician designs an exercise prescription, the goal is to provide both a safe program of exercise and one that is effective in reducing risk and optimizing functional capacity. It became evident that there was a need to identify and create physical activity programs in the community that are safe and suitable for cardiac patients. As a result of the overwhelming evidence to support 'exercise as medicine', Heart Wise Exercise (HWE) was created by the University of Ottawa Heart Institute. The Heart Wise Exercise model forms a bridge between the clinical setting and community based exercise programs. Heart Wise receives funding from the University of Ottawa, the Ontario Trillium Foundation, and the Ministry of Health Promotion. For more information about Heart Wise Exercise, visit: www.heartwiseexercise.ca
A designated Heart Wise Exercise Program meets the following criteria:
Encourages regular, daily aerobic exercise
Incorporates and encourages client centered warm up, cool down plus self-monitoring during an exercise session
Guides participants to exercise at a safe level and has options to increase intensity
Accepts participants living with cardiovascular disease and those at risk
Offers health screening
Has a documented emergency plan with phone access to 911 that is known by all exercise leaders who are certified in CPR and an AED is on site
These criteria could cover a variety of different types of programs at different levels of intensity. Please read the program description provided by the facility to find the Heart Wise Exercise Program most suitable for you. If you are unsure, please contact the community center where the program is offered.
THERAPEUTIC AND WELLNESS
These programs help bridge the gap between therapy and recreational fitness and are offered at most of our community centre locations. We're here to help you continue your road to recovery.
Dance Fitness
Examples of Dance Fitness Classes include Zumba, Calypso Reggae Cardio, Jazzercise, Latin Rhythm Fitness and more!
Mind and Body
Examples of Mind and Body Classes include Pilates, Meditation for Relaxation, Tai-Chi and 20 different varieties of Yoga!
Strength, Endurance and Cardio
Examples of Strength Classes include Boot Camp, Body Flex, Bell Core and more!
Programs You Can Do With Your Baby!
Examples include Yoga, Pilates, Stroller Fit, And Cycle Mommies
Need More Outdoor Fitness Options?
Try the outdoor exercise circuit at Meadowvale Community Centre. It consists of 6 consecutive stations spread out around the serene Lake Aquitaine. It's easy to follow and targets light muscular and aerobic activity.

Learn About the Outdoor Fitness Circuit

Where Is It?
Personal Training
Give Us Your Goals, We'll Get You Results!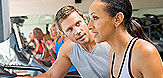 A Personal Trainer can empower you with the motivation and skills you need to boost your fitness routine results. Our trainers are affordably priced. A fitness membership is not required to use our affordably priced Personal Trainers. Call a fitness centre to book an appointment. All City of Mississauga Personal Trainers are certified and have over 2 years of post secondary education in health related field. If it's results you want, come meet one of our experts
Aquatic Personal Training
Aquatic Personal Training provides a customized workout program utilizing the weightlessness of water. Whether you need hydrotherapy, fitness related exercise or sport specific training, our qualified aquatic trainers can help you reach your goals.
Days and times vary according to instructor availability and your personal needs. An aquatic fitness expert will confirm dates and times of your workouts. Contact your local pool to be matched with a trainer.
Clarkson: 905-615-4840 ext 2121
Huron Park: 905-615-4820 ext 2450
Malton: 905-615-4640 ext 2527
Mississauga Valley: 905-615-4670 ext 2471
Squash Lessons
Get in the Swing of Things!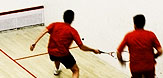 Private Racquet Lessons

Semi-Private Racquet Lessons

Improve your swing
Strengthen your serve
Improve positional play
Improve game knowledge
Improve game strategy

Meet new partners
Enjoy fun competition
Improve game strategy
For information about Adult and Junior Leagues or Lessons, Competitive Team Play and Seasonal Tournaments please phone us or enquire at the Customer Service Desk.
Participating Community Centres

Meadowvale Fitness Centre
6655 Glen Erin Drive, Mississauga, ON, L5N 3L4
Phone: 905-615-4710

River Grove Fitness Centre
5800 River Grove Ave., Mississauga, ON, L5M 4R8
Phone: 905-615-4780

South Common Community Centre
2233 South Millway, Mississauga, ON, L5L 3H7
Phone: 905-615-4770

Terry Fox Fitness Centre
1275 Mississauga Valley Blvd, Mississauga, ON, L5A 3R8
Phone: 905-615-4670
pcomapp01:8850