Asian Long-Horned Beetle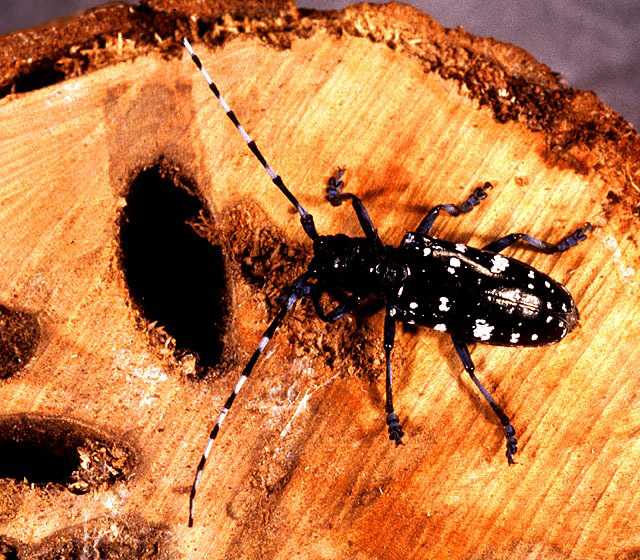 The Canadian Food and Inspection Agency (CFIA) has established a regulated area in parts of the cities of Mississauga and Toronto following the discovery of the Asian Long-horned Beetle (ALHB) in an industrial area in the Malton area. Your assistance is essential in preventing the spread of ALHB.
Special Notice to Malton Residents
Residents and businesses are restricted from moving any tree material out of the regulated area unless authorized by the CFIA. This includes firewood of all tree species, nursery stock, trees, logs, lumber, wood with bark attached and wood chips from trees that are identified as hosts to the ALHB. Movement of infected wood material can accidentally spread the beetle to unaffected areas.
The new Asian Long-Horned Beetle dump location is at the City of Toronto's Disco Road Transfer Station, 120 Disco Rd, Etobicoke. For more information, contact 905-615-4311.
Payment is required at the Disco Road Transfer Station unless affected Malton residents request a dump slip from the City. If additional dump slips are required, the resident must provide a copy of the most recent dump slip before a new one is issued.
To request a dump slip, please email alhb@mississauga.ca.
The wood debris will be disposed of effectively to prevent the possible spread of ALHB.
Business owners can also bring tree debris to the same location and time, or make arrangements with their contractors to dispose of wood waste, packaging material and tree debris as per CFIA regulations to avoid spreading ALHB.
Frequently Asked Questions
What is the Asian Long-horned Beetle and why is it harmful to the trees in our community?
ALHB is native to Asia and attacks and kills healthy deciduous trees including maple, willow, birch and poplar. The larvae feed in the trunk and branches of trees and eventually fill the trees with holes causing the trees to die. Adult beetles feed on the leaves, bark and branch tips. It can fly short distances and can also spread when infested wood is moved. The beetle was unintentionally brought to Canada in infested wood in crates, pallets and packing material. In Mississauga, the beetle was identified in an area near Pearson International Airport.
What are signs of ALHB infestation?
Signs of infestation may include perfectly round exit holes (about 3/8 to an inch in diameter) made by adult beetles when they emerge from trees. You may also see pockmarks on tree trunks and branches where female beetles deposit eggs, coarse saw dust produced by larva feeding and tunneling, early fall leaf colouration and running sap.
What can I do if I see signs of infestation?
Residents are advised to check their trees regularly for signs of ALHB. Any sightings of the beetle or signs of beetle damage should be reported to CFIA at 1-800-442-2342 or http://www.inspection.gc.ca/pests.
Where can I get more information?
For more information, please go to the CFIA website at www.inspection.gc.ca/pests.
Related Links