Welcome to the new season of "Let's Play In The Park" program.
For children ages 6 to 12 years
We look forward to seeing our returning and new participants. We have a lot of fun games and activities we can't wait to play!
How do I participate?
Check the dates and times offered at your local park and simply arrive for the time posted. Registration is not required .
In order to play once you arrive, a parent or guardian must sign 4 forms. You may sign the forms when you arrive or print your signed forms and bring them with you to the park.
*Please print and complete all four (4) forms listed below and hand them to our staff at the playground.
Do you have questions? Call us at 905-615-4100
Check out all our Summer Camp offerings at mississauga.ca/camps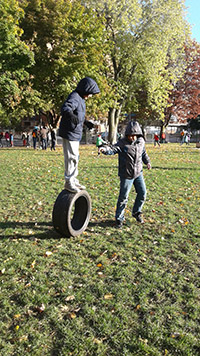 The City of Mississauga is hosting four Pop Up Adventure Playground events in Mississauga Parks. The events will be run by Earth Day Canada. Pop Up Adventure Playgrounds will give kids the opportunity to use their imaginations and experience unstructured self-directed play.
Outdoor self-directed, open-ended free play is a great way to connect children to their outdoor environments and community; to nurture their ingenuity, independence and sense of agency; to facilitate inclusion and support their mental and physical well-being. The POP-UP Adventure Playground offers a variety of "loose parts" that will serve to animate the space and provide enriched play opportunities in the city parks.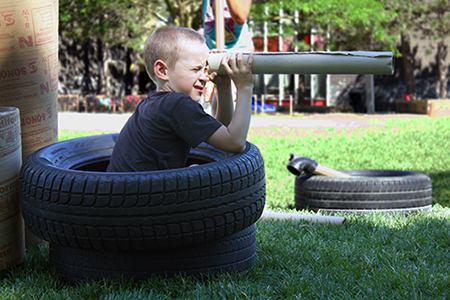 You can find out more about Earth Day Canada and the Play movement through their website and you can watch a Pop Up Play Adventure event in action here.
Pop Up Play Adventure Park event dates:
Thursday July 26, 9am-12pm, Ceremonial Green Park
Thursday August 2, 9am-12pm, Brickyard Park
Thursday August 9, 1pm-4pm, Community Commons Park
Tuesday August 14, 1pm-4pm, Serson Park
What Parents Have To Say About Our Program
"I am so happy to have the program just around the corner from my home. I'm a stay at home mom with 2 kids, 10 and 4, with no chance of paying for expensive camps, this was a huge relieve for me and great for my son to socialize and do exercise. I will definitely recommend this to everybody and I wish we can have it next summer. There are a lot of families who would benefit of this program. The 3 leaders are amazing with the kids."
"Thank you! My son has attended for the first week and we plan to go for most of the summer. I've told lots of other parents!"
"AWESOME for kids and very convenient for parents too."
"Great Program. Please continue it! Highly recommend this to anyone who has young children. Thank you."
"This is wonderful initiative taken by the City of Mississauga. The best way to keep kids active, creative and socialized during summer time. The staff is excellent and keep kids busy all the time in a productive way."
"The location of Lisgar filed is very nice and staff always comes very well prepared. I would like to take this opportunity to convey big THANK YOU to all the people who came out with this idea and entire team who made it a grand success."
"My kids love this program. The staff are wonderful and very approachable."
"The variety of activities are great. The kids love the singing camp songs with the actions. They also love the sport games. Thank you Simon and Janelle! "
"Leaders have a lot of patience for a highly active group."
"A huge 'thank you' from my kids as well as their Grandmother who watches them during the day. She is the one who tells me about the staff and the kids fill in the rest."
"We loved it. My child is enjoying and having loads of fun. The staff is so friendly. Thanks for the program!"
"We are completely thrilled with this program! 3 of our children have been attending the program on a regular basis since it began. The activities are excellent, keeping the kids engaged, active and interested. The leaders, Leah and Christine, are both absolutely amazing - energetic, positive, encouraging, pleasant, fun. Thank you for this excellent opportunity for our children!"
"We really appreciate all the work you've done for us. You made our summer very fun and special. Many thanks."
"Iam so happy about this program. My daughter is really enjoying it. Makes me proud to be a Mississauga resident!"
"I have recommended this program to several family and friends. All those who have joined are full of praises for the program. Kudos to the City of Mississauga"
"My son has attended the program from the very beginning at Lake Aquitaine Park. He LOVES it and asks each day to attend and is sad to go home. He loves all the games, crafts and activities he can do with his new friends. The leaders are very well trained and ensure that the kids are having a great time. I have recommended this program to other parents I know to encourage them to get their kids outside. Thank you City of Mississauga Parks and Rec for providing us with this program this year!"
"My daughter enjoys the program since day one! Thanks!"