Winter Fun
EVENTS
During the Winter Season, Mississauga Celebration Square will be bustling with winter activities and our annual Celebrate the Season events program. Come out and be a part of what's happening!
Mississauga Celebration Square will come alive for the annual winter favourite Mississauga Tree Lighting Celebration. Bring your holiday cheer and watch as the City Centre glows with a dazzling spectacle of lights. Remember to bring your skates for the opening of the Square's outdoor ice rink!
Ring in the new year at Mississauga Celebration Square as we count down to midnight on December 31 with entertainment and skating. Enjoy music while skating under the stars.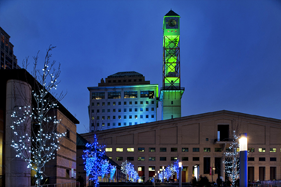 Then, swing by the Civic Centre on January 1 for the annual Mayor's New Year's Day Levee! Meet the Mayor and Members of Council while enjoying an afternoon of free family entertainment and activities.
Of course, this is just the beginning of what's in store on the Square this winter.
For a full listing of winter events on Mississauga Celebration Square, visit www.mississaugacelebrationsquare.ca.
SKATING
Glide Into Family Fun
Looking for somewhere to skate? We have several indoor and outdoor rinks for your enjoyment. Visit our website or pick up your skate schedule and enjoy developing your skills today.
The Civic Centre's Celebration Square also provides an ice rink surrounded by decorative trees with lights, which is accompanied by top 40 music hits to warm you up.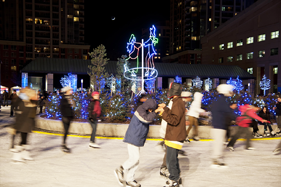 Rinks are open daily from 10:00 am - 9:00 pm (weather permitting)
Amenities include:
Heated change rooms
Washrooms
Lights
Music
Skating and More Winter Activities
ACTIVITIES
Mississauga offers a variety of winter activities for the whole family to enjoy. Whether you are cross country skiing, snow shoeing, tobogganing, skating or hiking, it's all free for everyone to experience.
Cross Country Skiing/Snowshoeing
There are many unplowed park trails that are ideal for cross country skiing or snowshoeing in the City.
Tobogganing
The City offers many places to go tobogganing. Its top three destinations are:
Brookmede Park
Birchwood Park
Erindale Park
To find more information on parks near you, click here.
Winter at the Museums
Discover Bradley House, and see how an early settler family would prepare for and celebrate the Christmas season. Step back in time and enjoy the sights, sounds and smells of an early 19th century home including cooking on the open hearth.
Visit the Log Cabin and have your photo taken with Santa Claus, sample some Christmas goodies in the volunteer-operated tea room and listen to live traditional music in the historic buildings.
Stop by Benares Historic House to experience the revelry of an early 20th century Christmas in this elegantly restored house decorated in all its seasonal finery. This free family event includes the sights, sounds, smells, and tastes of Christmas past - supported by corporate sponsors. Contributions to the local food bank are welcomed.