Educational Resources
School Presentations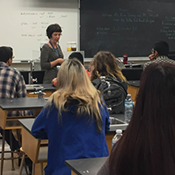 The stormwater outreach team offers free in-class presentations at schools across Mississauga for Kindergarten to Grade 12 students to educate them on subjects such as:
Municipal Stormwater Management
Water quality and environmental health
Water conservation and Low Impact Development Features
Surface and Groundwater protection
Yellow Fish Road Program
The school outreach program is available Monday to Friday of each week during school hours. The Yellow Fish Road program is available every day of the week including evenings. We work with educators and community groups to design custom presentation to fit their curriculum and other needs.
Find out more about our in-class presentations.
To book a presentation, contact us at 905-615-3200 Ext. 3166 or email stormwater@mississauga.ca.
Yellow Fish Road™ program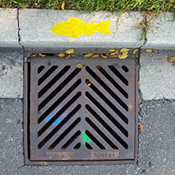 The Yellow Fish Road™ Program educates the community about the dangers of dumping or flushing unwanted household hazardous wastes into the roadside and backyard storm drainage inlets called catch basins.
The Yellow Fish Road™ Program is a hands-on environmental project that allows people to make a difference by helping to educate community members about water pollution. Trout Unlimited Canada introduced the Yellow Fish Road Program™ in Calgary in May 1991. Since then, more than 220 communities across Canada, including Mississauga, have approved or implemented this water quality initiative.
The Yellow Fish Road™ Program volunteers in Mississauga paint yellow fish stencils on curbs next to roadside catch basins and distribute fish-shaped brochures to nearby households. The program is available Monday to Sunday, including evenings.
For more information, email stormwater@mississauga.ca