Youth Outreach
Due to the COVID-19 pandemic, we won't be booking or conducting stormwater in-class presentations until further notice.
Stormwater Comics
Follow us on Instagram @saugastormwater
School Presentations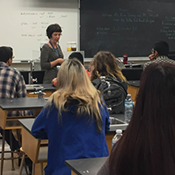 The stormwater outreach team offers free in-class presentations at schools across Mississauga for Kindergarten to Grade 12 students to educate them on subjects such as:
Municipal Stormwater Management
Water quality and environmental health
Water conservation and Low Impact Development Features
Surface and Groundwater protection
The school outreach program is available Monday to Friday of each week during school hours. We work with educators and community groups to design custom presentation to fit their curriculum and other needs.
To book a presentation, or to learn about other youth focussed programming, please contact stormwater@mississauga.ca.