Background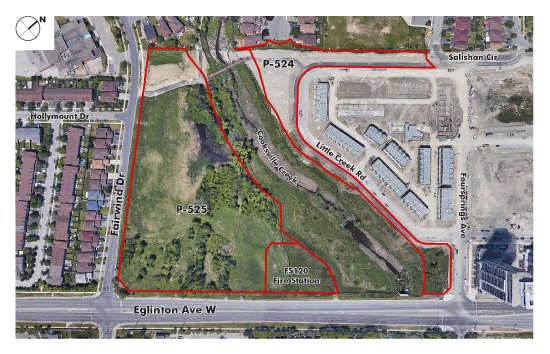 Known currently as Park 524 and 525, the sites are located at 5055 Fairwind Drive. Cooksville Creek and its floodplain flow diagonally through the site, separating the parcels of land in east and west segments. Park 525 is much larger than Park 524 and contains a number of natural features that will be considered in the park's development.
The park is planned to be developed into an all-season community park with outdoor recreational amenities, trails and passive uses including natural areas and a stormwater management features.
A new Fire Station (FS120) shares the site, just west of Cooksville Creek on Eglinton Avenue West. The fire station was constructed in 2019.
The City uses its Future Directions Master Plan and community feedback to make recommendations and decisions about programming and designing community parks.
Project update
The concept design plan has been finalized. Detailed design and park construction is underway and anticipated to be substantially complete by December 2020.
Public information centre 1
A Public Information Centre was held on June 5, 2018, at Cooksville Creek Public School to share information about the park's land features and preliminary park program.
Visuals 
Public information centre 2
A second Public Information Centre was held on September 26, 2018, at St. Francis Xavier Secondary School. This meeting provided an update on the project including findings of first Public Information Centre, results of the completed site investigations, site constraints and opportunities as well as preliminary design options for the park.
Information
Next steps
Construction Start Anticipated: August 2020