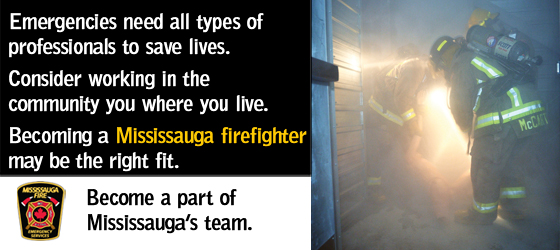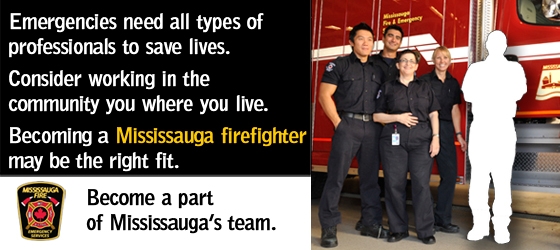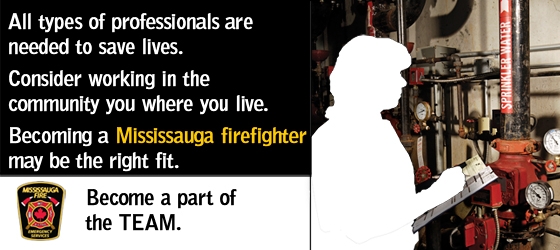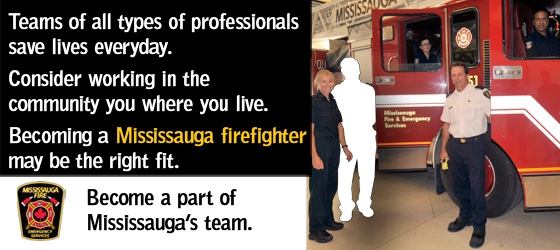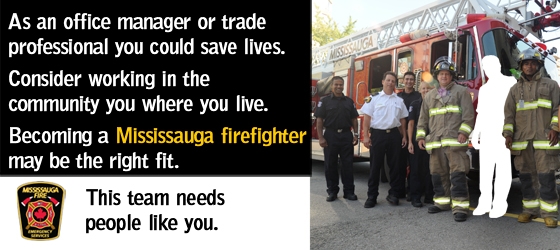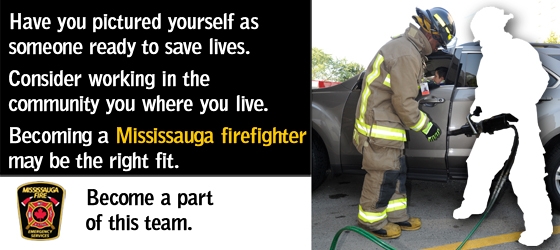 The Fire Fighter Recruitment FAQ
How Do I Apply?
Our Fall 2013 Recruitment Campaign has concluded. Our next recruitment campaign will take place no earlier than the Fall of 2016. At that time you will be able apply online.
Do I Qualify?
Candidates must:
Be legally entitled to work in Canada.
Have achieved Grade 12 graduation or equivalent.
Hold a valid, unrestricted Ontario Driver's License with an excellent driving record. (G1 & G2 Licenses are not acceptable)

Successful applicants must receive a Class DZ Ontario Driver's License within 6 months of hiring date.

Have excellent hearing without the use of artificial aids.
Have visual acuity of 20/30 uncorrected in each eye and colour vision which is safe for firefighting.
Be able to swim proficiently.
Have effective English communication skills.
Have the ability to successfully complete comprehensive written, medical, physical and swimming tests. See our "Do I Have to Do a Physical/Medical Test?" section.
Have a Criminal Records Search, Vulnerable Sector Screening that is acceptable to the City of Mississauga. See our "Do I Need a Criminal Record Search?" section.
Have Current Standard First Aid and CPR "C" Level certificates. See our "What Type of First Aid Training is Required?" Section.
Do I Need a Firefighter Pre-Service or Other College/University Affiliated Courses to Qualify?
No. Although Pre-Service and/or College/University courses related to the Fire Service are considered a definite asset, it is not a prerequisite. Mississauga Fire and Emergency Services are looking for a broad range of people with different educational/technical/mechanical backgrounds.
What Type of First Aid Training is Required?
All candidates must have Current Standard First Aid and CPR "C" Level certificates
Do I Have to Do a Written Test?
Yes, the written test involves a combination of any of the following areas:

Understanding Oral Information
Reading & Understanding Written Information
Understand Written Instructions
Mathematical Ability
Numerical Skills
Maps, Diagrams & Mechanical Reasoning
Mechanical Aptitude
Teamwork/Public Relations/Community Living
Do I Have to Do a Face-to-Face Interview?
Yes, if you are selected with a specific level of test score and skills assessment you may be forwarded to a first round interview.

The first interview typically consists of an interview with Fire Management and Human Resources.

If you are selected a second interview will be conducted by a panel headed by our Fire Chief or Deputy Chief.
Do I Have to Do a Physical/Medical/Swim Test?
Physical Testing:
Medical Evaluation
The following areas are assessed during the Medical evaluation
Visual Acuity
Colour Vision
Depth Preception
Hearing
Lung Function
Medical History
Swim Test
Consists of a continuous swim of 200 m any stroke, not timed in a 25 m pool.
Do I Have to Provide Previous Work References?
Candidates moving forward from the Interview stage will be reference checked. You must provide 3 work related references from either supervisors or managers that you directly reported to (reference consent forms will be provided at the interview session).
Do I Need a Criminal Record Search?
A criminal Record search, vulnerable sector screening will be requested of the applicant when invited to a first interview.
One needs to obtain this search from the Police Service where you reside at the time of the interview.
Is Training Provided?
Recruit Training Program follows the competencies of NFPA 1001:
Fire Department Organization
Professionalism
Safety
Fire Behaviour
PPE/SCBA
Ropes & Knots
Ladders
Water Supply
Hose & Appliances
Fire Streams
Extinguishers
Fire Suppression
Forcible Entry
Ventilation
Search & Rescue
Salvage & Overhaul
Incident Management
Fire Cause Determination
Apparatus Operations, driving, pumping
Hazmat Operations
Specialized Rescue Awareness
Emergency Medical Responder
Public Education
Fire Alarm and Detection Systems
Communications
Terrorism Awareness
FF Survival & Rapid Intervention
What Skills Are An Asset?
Some of the skills we are looking for from a potential Firefighter are:
Post-Secondary Education
Trades Qualification
Community College – Fire Protection Engineering Technician/Technology Program
Pre-Service Training Certificate Programs/Fire College Programs
Previous or Current Firefighting Experience
Previous Emergency Services Experience (e.g. Paramedic)
Previous Military/Coast Guard Experience
Lifeguard (NLS Certification)
Self-Contained Breathing Apparatus (SCBA) or Self-Contained Underwater Breathing Apparatus (SCUBA)
Occupational Health and Safety Training
Climbing Skills – Mountain/Rope
Medical, Ski Patrol or Other Professional Emergency Service Certification
Coaching/Teaching/Counselling/Recreation Leadership
Volunteer Work
Driving Heavy Vehicles
Operating Heavy Equipment
Specialized Aircraft Licensing
Confined Space Training
What Do Firefighters Do?
Medical Aid – administer First Aid and CPR, in addition to cardiac care using semi-automatic defibrillators.
Rescue Operations – Search and rescue; removing injured persons from motor vehicles, industrial accidents and confined spaces; water rescue.
Firefighting – handling hose lines, operating firefighting equipment using hand tools.
Public Education – presenting programs and attending public events to promote fire safety awareness.
Fire Prevention – inspecting commercial, industrial and residential buildings; enforcing the Provincial Building and Fire Codes and Municipal by-laws; preparing emergency pre-plans.
Hazardous Material Management – controlling toxic spills that may endanger the public or the environment.
Maintenance – daily upkeep of grounds, buildings and apparatus.
On the job training in the above techniques is provided on a continuous basis to all firefighters.
CLICK HERE FOR HOW TO UPDATE YOUR RESUME
Our Fall 2013 Firefighter Recruitment Campaign is now closed.
We thank all those who participated in the CPS Testing. The results of the testing can be viewed by clicking below.

CLICK HERE FOR TEST RESULTS

Please use your four digit ID number to access your results.
Only those candidates who scored a 70% Score or above will be forwarded to a stage where their application, questionnaire and qualifications will be reviewed. Please note that those who scored a 69% or lower will not be considered for a review of their qualifications at this time.
We are not requesting information from applicants to review at this time. We will e-mail candidates directly when we wish to review applicant information.
We are an Equal Opportunity Employer. In accordance with the Accessibility for Ontarians with Disabilities Act, 2005 and the Ontario Human Rights Code, the City of Mississauga will provide accommodations throughout the recruitment, selection and/or assessment process to applicants with disabilities. If selected to participate in the recruitment, selection and/or assessment process, please inform City Human Resources staff of the nature of any accommodation(s) that you may require in respect of any materials or processes used to ensure your equal participation. All personal information is collected under the authority of the Municipal Freedom of Information and Protection of Privacy Act.
A candidate's sex, age, colour, race, or religion is not a factor in the selection process. In fact, Mississauga Fire & Emergency Services is actively seeking applications from individuals who reflect the City's diverse community.