Nestled in the centre of Mississauga's Heartland community, proudly stands BraeBen Golf Course. Designed over 30 years ago to be "true to the Scottish Highlands", "Brae" and "Ben" are Gaelic for "slope" and "mountain or hill" respectively.
The Golf
BraeBen's public 18-Hole Championship Course features dramatic terrain, swaying fescue grasses, gnarled trees and shrubs, pristine fairways, punctuated with challenging sod-walled bunkers - all reminiscent of golf's early beginnings. As in the highlands of Scotland, wind will be a factor on most days. Golfers of every skill level can challenge themselves from the Red, White, Blue or Black tees.

The Academy Course at BraeBen offers the best 9-Hole Par-3 Course in the Ontario. Home of the BraeBen Teaching Academy, learning golf is in a fun, relaxed atmosphere. CPGA Instructors are available for individual, clinic and group lessons. Whether you are a beginner or seasoned golfer, the instructors at the Academy can help you move towards the next level of game play. The tremendously popular NIKE Junior Golf Camps for children aged 7-16 are offered in July and August at the Academy.

A double ended Driving Range is also available for a warm-up before your round, or practicing at anytime.
The Clubhouse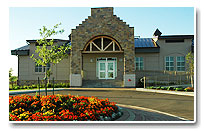 Pub
The BraeBen Clubhouse Pub, is sure to be a hole-in-one for those looking to quench their thirst and sample some hearty fare. Enjoy the game on the big screen inside or sit outside on our 75-seat patio while you and your playing partners recall the great day you had out on the course.

ProShop
The Clubhouse also features a fully stocked ProShop with the latest golf equipment and knowledgeable staff to help you.

Events
Ideal for tournaments, banquets and weddings, the upstairs of the BraeBen Clubhouse offers a 200 seat dining room. The 180 degree glassed window offers spectacular views of the course.
Produces Green Energy to Power Mississauga Homes
The 200 acre site at Terry Fox Way and Matheson Blvd. is an ecological masterpiece. Using a state-of-the-art process, the Course has a green energy system that provides enough renewable energy to continually power over 5,000 Mississauga homes. Mississaugans take pride in this Golf Course's ability to actually reduce Mississauga's carbon footprint.

BraeBen Golf Course is also a sanctuary to a diverse wildlife population. Hawks, falcons, coyotes and foxes all enjoy the dramatic highlands-style terrain.

Those who golf at BraeBen can take pride in being among the greenest golfers on any greens!

The Highest Land Point View in Mississauga
As the highest land point in the City, BraeBen also offers a spectacular and must-see view of Mississauga.

Never the same game twice!
Located in the heart of the city, affordable golf has never been more convenient!
BraeBen Golf Course has something for everyone, and the more you play the more you will agree that it is, "never the same game twice!"