Watch the Jerry Love Childrens Fund Video
Since its start in 1985, the Jerry Love Children's Fund has helped more than 15,000 children participate in sport, art, cultural and social recreation activities. Available to City of Mississauga residents aged 15 or younger, for any program operated by Recreation and Culture, this generous Fund offers young people the means to challenge their abilities, to play, have fun and to make friends.

Learning new skills and cooperation, exercising bodies and minds-nothing offers children as many benefits as recreation. Recreation is essential to the growth and well-being of our youth. Providing positive experiences and supporting children to lead healthy, active lifestyles is the goal of Mississauga Recreation and Culture.

Administered by City of Mississauga Recreation and Culture, the Jerry Love Children's Fund raises thousands of dollars each year to help hundreds of children enjoy the benefits of participating in recreation programs. Making recreation programs available to children who might otherwise be unable to afford them is what the Jerry Love Children's Fund is all about.

All donors to the Jerry Love Children's Fund share a belief in the value of recreation and in the need to ensure that no young person is deprive of it. The Fund is supported by individuals, local businesses, service clubs, community groups and other funding bodies such as the PepsiCo Canada Foundation. Each and every dollar raised goes towards program registrations, with the City of Mississauga covering all administration costs.
How we started - A labour of Love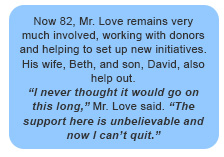 Making recreation opportunities available to all of the City of Mississauga's children is literally a labour of love to Jerry Love, the City's former director of recreation.

Before retiring in 1991, Jerry Love, City recreation staff and volunteers spent 35 years offering Mississauga's children recreation programs that best met their physical and social needs. He also realized that many families were not in a financial position to enroll their children in municipally operated recreation programs.

Jerry Love was a major advocate behind a fund that provided children, despite family finances, an opportunity to participate in the City's range of recreation and leadership programs. When Jerry retired, Mayor Hazel McCallion honoured his efforts and renamed the fund the Jerry Love Children's Fund-a truly fitting designation.

Funding fun for kids

Your much-needed support in the investment of our youth will afford them opportunities in their community so that they may achieve mental, physical, social and personal development through participation in active living.

If you would like to contribute to the Jerry Love Children's Fund, donations can be made online by clicking on the DONATE button below, by calling 905-615-3200 extension 4274 or by mail to City of Mississauga, Jerry Love Children's Fund, Recreation Division Customer Service Centre, 5600 Rose Cherry Place, Mississauga ON L4Z 4B6. Please make cheques payable to City of Mississauga, Jerry Love Children's Fund.
Donations of $20 and more are also tax deductible and donors receive a receipt for income tax purposes.
Eligibility
Only Children's recreation programs that are operated by the Recreation Division are eligible for subsidy. The subsidization program is restricted to residents of Mississauga 15 years of age and under. Subsidy does not apply to H3O, Semi Private or Private Lessons.
Eligible children may receive a subsidy for 1 course code per calendar year, or a 1 or 3 month Swim/Skate Pass. The maximum amount of subsidy for any program or session is $160. Since funds are limited, the agency or parent/guardian will be required to pay the difference for any program exceeding the $160 maximum. Subsidy does not include extra costs associated with program.
Applicants in receipt of the Jerry Love Children's Fund cannot receive benefits from the ActiveAssist fee assistance program in the same calendar year.
Procedure
The child's school social worker or a social worker from a Community Agency can assess the family situation, and if they qualify, will fill out a "Jerry Love Referral for Subsidy" form, which then must be attached to a completed Registration Application Form. The Referral form is to be completed by the Social Worker for the client. If an additional payment is to be made by the parent/guardian or agency, then it must be submitted with these forms, or placed on the Family Account at any Mississauga Community Centre; registrations will not be processed until additional payment is received.
All completed subsidized registration information is to be forwarded to the Recreation Division Customer Service Centre, 5600 Rose Cherry Place, Mississauga ON L4Z 4B6.
Phone (905) 615-4100, Fax (905) 615-4101.
Program Registration
All referral documents and registration information must be submitted to the Recreation Division Customer Service Centre well in advance of the program start date to allow time to send the Registration Confirmation to the parent/guardian via Canada Post; we are unable to telephone families to confirm registration. Registrations are first come, first served, and you may check the status of a program at any time via activemississauga.ca, which is a live database.
If funding is unavailable, or the registrations cannot be processed for any reason, the parent/guardian and/or Agency will be contacted by telephone.
Program Cancellation
If a child who has received subsidization is unable to attend a program for any reason, the agency or parent must cancel the registration with the Recreation Division Customer Service Centre at 905-615-4100; all withdrawal/transfer policies are applicable. By informing us at least one week in advance we can ensure that the funds are made available to another deserving child. The customer's registration account will not be credited with the subsidy amount due to cancellation. Cancellation for program registrations that are over the $160 maximum will be charged the regular administration fee of $10 + HST.