Teachers and Group Leaders
Learn, Feel, Celebrate, Share.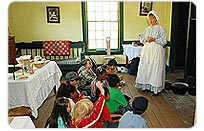 The Museums offer a wide range of learning opportunities that engage students of all ages. Through historical artifacts, hands on activities, stories and interactive presentations., the Museum's education programs help students immerse themselves into historical experiences that celebrate Canada's cultural heritage.
It is our hope that through the museum programs, students of all ages will connect with real people and places from the past, so that they can better understand how people have dealt with the one constant in history: change.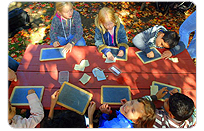 All of our Education Programs are designed with specific links to the Ontario Curriculum. In addition, our programs provide cross-curricular links as well. All of our Guide/Brownie/Scout/Cub/Beaver/Spark Programs are designed with Badge requirements in mind.


Program Fees


Education Programs:

$5.10 (2 hours)

Seasonal & Specialty Programs

$6.00 (2 hours)

In Class Program

$150.00

Outreach program- Second Consecutive Program:

$50.00

Log Cabin Overnight Program

:
(minimum booking 14 children, with 2 free adults)
$45.00 per child
(Extra add-on mini program $2.00)

Log Cabin Overnight Program

:
(Additional adult leaders)

$22.50

Adult Group Tour (one museum)

$4.50

Adult Group Tour (two museums)

$6.75

**Taxes not included**
For further information on details pertaining to these programs or to book any of our programs, please call 905-615-4860.Please note a minimum charge is applied to all pre-booked programs.
Children's Birthday Party Packages

Book your child's next birthday party with us and enjoy an old-fashioned celebration, featuring:
An interactive guided tour of the historic house by our museum interpreters

Hands-on baking activity over the open hearth

Children's craft

Social room space for food, cake, gift opening, etc.
Birthday packages at the Museums of Mississauga are designed for children aged 5 to 12 years and run for approximately 3 hours. Our rates are $173.60 (+ taxes) for up to 15 children and $10 for each additional child; maximum 20 children. Full payment is required at time of booking

For further information on booking your child's next birthday party with us, please call the Museums at 905-615-4860.

Attention Teachers!!!

The Friends of the Museums are offering to fund FREE bussing for school trips to the Museums of Mississauga on a 'first come, first serve' basis. This opportunity is intended for Mississauga schools that might not otherwise be able to book an education program with us and require assistance. This opportunity will be limited to two busses per school on a single date per calendar year for an educational program at either site – Bradley Museum or Benares Historic House. To inquire about funding, please contact Isabel Palferro, Administrative Coordinator, Museums of Mississauga at isabel.palferro@mississauga.ca or 905-615-4860 ext. 2107.

Please note the following details in your letter:
Date of school trip currently booked at the Museums of Mississauga

Name of program and site location

Grade level and number of students attending

Cost of bussing required

Brief explanation for request
Please allow three weeks for a response.
Teacher Evaluation Form

We appreciate your feedback! After your group visit, please fill in an evaluation form.

Check out what teachers and group leaders have been saying about our programs.

Click here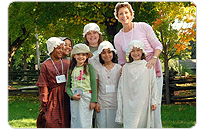 Education Programs

Museums School Programs

Badge Program Listing

Log Cabin Overnight Program
Participants will receive a free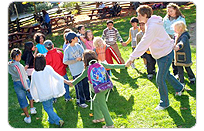 Bradley Museum Log Cabin crest!

Adult Group Tours

All our programs are well-suited to English as a Second Language (ESL) groups of all ages.

Photography by Dan Sutton: dansuttonphotography.com