About Us
Malton Community Centre
3540 Morning Star Drive, Mississauga, ON, L4T 1Y2
Phone: 905-615-4640

Customer Service Desk Hours of Operation:
Monday - Thursday: 6:30 am - 10:10 pm
Friday: 6:30 am - 9:40 pm
Saturday - Sunday: 8:30 am - 5:40 pm

Community Centre Hours of Operation
Monday - Friday: 6:25 am - 11:00 pm
Saturday - Sunday: 8:25 am - 9:00 pm

Closed Statutory Holidays




Malton Community Centre features a double gymnasium, expanded fitness area and completely redesigned change rooms with adjacent steam rooms. Community groups and residents will enjoy holding their meetings and special events in the multi rooms. A new outdoor splash pad, playground and basketball play pad will provide hours of enjoyment for youth.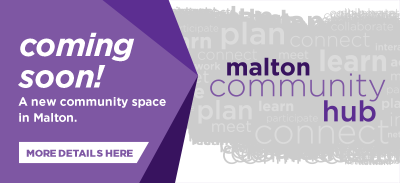 What We Offer
Swimming

Malton Community Pool is a 25 metre, 4 lane, rectangular shaped pool located in the Malton Community Centre. Features include a deep-end slide, basketball nets, a diving board, accessible ramp, a warm water therapeutic pool with hydro bench, male, female and family change rooms. Day lockers are available in change facilities. A tippy bucket available for use during fun and loonie swims.
Fitness
Malton Fitness Centre amenities include: Cardio Equipment including Treadmills, Stationary Bikes, Stairmasters, and Ellipticals, Conditioning equipment including free weights, barbells & dumbbells. Our Group Exercise Studio offers numerous group exercise classes. Membership also includes steam room, public skating and swimming.
Skating
The Paul Coffey Arena (formerly Malton Arena) hosts a wide variety of programs including Learn to Skate, Ice-Hockey, Public Skating, Ball Hockey and more. Located near Highway 427 and the 407, the facility is a quick drive from almost anywhere in the GTA.
Sports
Malton Gymnasium offers a variety of recreation opportunities including basketball, volleyball, badminton, indoor soccer and more.
Library
Malton Library features internet access, Wireless (WiFi) Access, a cozy reading area with a fireplace, and more.
Rental Spaces
We offer rental spaces across the city for meetings, social events, parties, sporting events, training sessions and so much more.
Get the scoop on facility & service status, events and promos through our Facebook Feed below. Or
Follow Us On Facebook
& stay up to date through your Facebook News Feed.