About Us
Mississauga Valley Community Centre
1275 Mississauga Valley Blvd, Mississauga, ON, L5A 3R8
Phone: 905-615-4670

Customer Service Desk Hours of Operation:
Monday - Thursday: 6:30 am - 10:10 pm
Friday: 6:00 am - 9:40 pm
Saturday - Sunday: 7:00 am - 4:10 pm

Community Centre Hours of Operation
Daily: 6:00 am - 12:00 am

Closed Statutory Holidays




The Mississauga Valley Community Centre is central Mississauga's hub for recreational activities. As the City of Mississauga's largest Community Centre, residents have an opportunity to belong to and participate in a diverse array of programs by connecting with people of all ages, cultural backgrounds and interests. Nestled within the facility is the fully-equipped Terry Fox Fitness Centre and the Terry Fox Pool (25 metres) and Therapy Pool. The Mississauga Valley Community Centre's other popular amenities include the Mississauga Valley Library, ice arena, meeting rooms for hosting events and gatherings, and a gymnasium for sports and leagues such as basketball, volleyball, soccer and badminton. Come visit and enjoy the Mississauga Valley Community Centre today!
What We Offer
New Programs
New Fitness Registration Classes now available at the Civic Fitness Centre. Register now and Improve your overall fitness level with these different styles of classes.
Parent and Child stick and Puck
Ages 6-13 yrs
Wednesdays 4:30 - 5:30 p.m
Mississauga Valley Community Centre Arena
Find Availability and Register
Swimming
Terry Fox is a 25 metre, 6 lane, rectangular pool with a therapeutic tank beside the main pool. The shallow and warm water is ideal for people in post rehabilitation or who wish to include a gentle but effective exercise program into their lifestyle.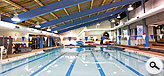 Fitness
Terry Fox Fitness Centre amenities include: Cardio and Conditioning equipment, Aerobic Studio offering group exercise classes, 2 Squash Courts and Personal Training.
Skating
Mississauga Valley Arena hosts a wide variety of programs including Learn to Skate, Ice-Hockey, Public Skating and more. The arena houses a 180' x 80' single ice pad, Seating for up to 375 spectators, 6 dressing rooms and a snack bar.
Sports/Leagues
Mississauga Valley Gymnasium offers a variety of recreation opportunities including basketball, volleyball, badminton and indoor soccer.
Library
Mississauga Valley Library features approx 92,000 items, internet acces, and more.
Rental Spaces
We offer rental spaces across the city for meetings, social events, parties, sporting events, training sessions and so much more.
Get the scoop on facility & service status, events and promos through our Facebook Feed below. Or
Follow Us On Facebook
& stay up to date through your Facebook News Feed.