HEAT ALERT
Due to the extremely hot weather forecasted for the GTA, the City of Mississauga has issued a Heat Alert. Check out our home page for more information.
HEAT ALERT
Due to the extremely hot weather forecasted for the GTA, the City of Mississauga has issued a Heat Alert. Check out our home page for more information.

The Lions Club of Credit Valley Outdoor Pool (formerly Port Credit) will be open to the public for a Fun Swim from 4pm - 7pm this evening, weather permitting. For more info or to confirm pool times, please contact 905-615-4840.

FACILITY REOPENED
The Warren Marshall Arena & Ron Searle Arena at Carmen Corbasson Community Centre (CC) will re-open on January 3, 2014 following mechanical equipment repair. Programs, leagues and rentals as well as fun skates will resume as scheduled. For more information on this facility, please visit the Carmen Corbasson CC webpage . Thank you for your understanding.

EXTREME COLD WEATHER ALERT
An extreme cold weather alert is currently in effect for the City of Mississauga.
Find locations and tips on how to keep warm here.
Sports/Athletics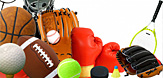 As a place where people chose to live, work and play, sport is an essential part of life in Mississauga. With our sports partners, we operate more than 600 sports facilities and provide a large variety of sports programs for all ages including a wide range of choice based on ability, from recreational play to high-performance competition.
Our incredible line-up of sports and athletics programs includes:
Basketball
Martial Arts: Aikido, Jiu Jitsu, Karate,
Kung Fu, Tae Kwon Do
Classical Sports: Archery, Fencing
Racquet Sports: Badminton, Tennis
Cricket
Skating
Dodgeball
Soccer
Football
Volleyball
Dodgeball
Soccer
Football
Volleyball
Golf
Wheel Sports: Skateboarding, BMX and
Mountain Biking, Inline Skating
Hockey (Ice and Floor)
Wrestling
Our sports programming provides flexible and inexpensive opportunities such as drop-in sports activities, registered programs, camps and leagues-all offered year round. And we've partnered with local organizations to provide you with even more sports to choose from, including martial arts, badminton, tennis, squash, sailing, kayaking, canoeing, basketball, ball hockey, gymnastics, cheerleading, golf, archery, fencing and rowing.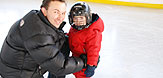 No matter what your age or skill level, our skating lessons and programs are designed for the beginning skater to the experienced. Our hockey development programs focus on skills improvement for the casual player to the competitive. Hit the ice year 'round with a program that's just right for you.
Sport Leagues
We have a new name! Our Hershey SportZone Adult Leagues are now called the Mississauga Sport Leagues (MSL). We still provide the same great service, in fact we stand above the competition with better facilities, better officiating and better play schedules — Mississauga Sport Leagues , a better game!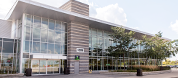 The Mississauga SportZone sports complex is comprised of a 5,400-seat spectator arena, a three ice pad community arena, indoor regulation soccer field, triple gymnasium, gymnastics centre, fitness centre and outdoor sports fields. The SportZone is also home to Iceland Mississauga, a state-of-the-art, four-pad ice complex. Iceland offers amenities including an Olympic-sized ice surface with seating capacity of 1,200, and three recreational-sized ice rinks with seating. The parkland surrounding Iceland includes a skateboard park and two artificial sports fields.
Many of our youth and adult sport leagues play at the Mississauga SportZone offers youth and adult sport leagues including ice hockey, indoor soccer, dodgeball, and flag football. Click here for more information on the Mississauga Sport Leagues (MSL).
Community Sport Groups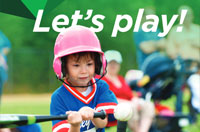 In the City of Mississauga, there are a variety of community sport groups that offer children and youth opportunities to learn a new sport, develop skills, be part of a team, stay active and have fun. In arenas, sport fields, gymnasiums, pools, on the water and outdoors people are training, playing, competing or practicing in sport based, safe organizations. Find what you are looking for today by visiting sportmississauga.ca
| Community Sport Groups Categories | Sports |
| --- | --- |
| Arena | Ice Hockey, Ball Hockey, Figure Skating, Ringette, Sledge Hockey, Box Lacrosse, Curling |
| Field | Baseball, Softball, Soccer, Cricket, Football, Rugby, Field Hockey, Field Lacrosse |
| Gym | Basketball, Gymnastics, Pickleball |
| Pool | Aquatics, Synchronized Swimming |
| Water | Canoe/Kayak, Dragon Boat, Rowing, Sailing |
| Outdoor | Lawn Bowling, Tennis, Beach Volleyball, Track and Field, Bocce |
City Golf
Two exceptional golf courses. Two unique experiences. In one magnificent city.
Whether you are a beginner or advanced golfer we hope you'll check out our two golf courses. Book a tee-time online today and enjoy golfing right outside your doorstep.
BraeBen Golf Course

Experience modern innovation and a true golf challenge at BraeBen Golf Course. Nestled in the centre of Mississauga's Heartland community, BraeBen Golf Course was designed to be true to the Scottish Highlands-and provides stunning views from the highest land viewpoint in the city. Offering an 18-Hole Championship Course, 9-hole Academy Course and driving range there's a challenge to entice every type of golfer.

Visit BraeBen Golf Course online

Lakeview Golf Course

Play 18-holes of historic championship golf amongst the serenity of Lakeview Golf Course. At its present location in Port Credit since 1907, Lakeview has maintained tradition in its layout, to produce some of the finest golf conditions in the province. Lakeview features large sloping greens with subtle breaks that offer incredible challenge and fun, and is one of the most mature and picturesque golf courses in the GTA.

Visit Lakeview Golf Course online
pcomapp02:8851