Artifact Collections

The Museums of Mississauga are responsible for the collection, preservation and sharing of Mississauga's heritage through a rich artifact collection which spans more than 200 years of Mississauga's history.
Collection Highlights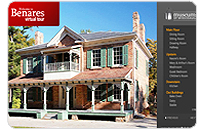 Benares Historic House Virtual Tour

This multi-media tour highlights the stories, artifacts, and images of the Harris family and their home Benares, from the 1830s through to the end of the 20th century, featuring video and audio recordings by both Barbara Sayers Larson (b. 1920) and her brother Geoffrey Harris Sayers (1907-1998). Their great-grandfather, Captain James Harris, purchased Benares in 1836, and it was home to four generations of the family. Click here to check it out.
Virtual Museum of Canada

The Museums of Mississauga have launched a on-line history resource in both French and English. Hosted on the Canadian Heritage Information Network, the Museums have posted over 3,000 artifact records with a complete description, history and image available for viewing. Facts about various residents of Mississauga including the Harrises, Magraths, Drapers, Fred Livesay, Mazo de la Roche, Colonel T.L.Kennedy, Mary Fix and many more are included in both official languages.

To access this information go to www.virtualmuseum.ca. Simply enter "Benares Historic House" or "Bradley Museum" in the Search category to learn more about the artifacts in the museum collection, to see images of the artifacts, and find out how they were used and by whom! We hope to add new records every month so keep us in your web page favourites!!

Currently you can access 6,290 of the Museums of Mississauga Artifacts via the Virtual Museum of Canada at http://bit.ly/Nb1Hbg and http://bit.ly/1dWbjRy .
This project was made possible in part by a grant from the Federal Museums Assistance Program, Department of Canadian Heritage.
City of Mississauga Historic Image Database

View hundreds of historical images from the museums and library collections, designated properties, and municipally owned cemeteries in Mississauga. Click here to enter the Historic Image Galllery.

Museums Receives Cultural Spaces Canada Grant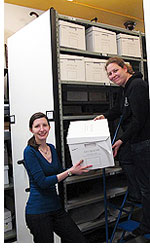 The Museums of Mississauga were awarded a grant from Cultural Spaces Canada for upgrading our storage shelving at Benares Visitor Centre. The project entailed doing a complete inventory of all artifacts in storage, updating our database and taking a digital image for each item. Everything was packed and moved out of storage to facilitate the installation. Over 5,000 artifacts have been recorded and approximately 250 items were relocated from Bradley Museum to this storage area. The shelves were purchased from Space Savers Ltd., based in Aurora and consist of two moveable carriages, a unit for framed art work and four wall mounted art racks.

Thanks to Alexandra Benedikt, Lindsay Doren and Samantha Roswell who worked with existing Collections staff to complete this project. Thank you also to Cultural Spaces Canada, City of Mississauga - Recreation & Parks and the Friends of the Museums for their generous support.

For more information on Cultural Spaces Canada please visit the Canadian Heritage website at www.pch.gc.ca

Museums Database Upgrade Project

The Museums of Mississauga completed an upgrade to their Collections Management database system in 2013 which included replacement of the Microsoft Access database with Past Perfect. The project consisted of converting our existing data, barcoding more than 11,000 items and uploading over 4,000 records to Artifacts Canada. The new system has more functionality and allows us to better manage our artifact collection. Thanks to our staff Robert Stanczyk, Tami Daoust and Avery Morettin as well as co-op students, Sarah Cregan and Josh Pimentel who assisted with the implementation of the project. This upgrade was funded by the Government of Ontario through the Ministry of Tourism, Culture and Sport (Museums and Technology Fund), the Friends of the Museums of Mississauga and the City of Mississauga.