| | | |
| --- | --- | --- |
| | The vision of the Next Step to Active Living program is to be the model of choice for empowering participants to optimize their quality of life. | |
Next Step to Active Living, a therapeutic recreation program, offers a supportive environment for adults aged 21 and over with acquired physical disabilities. Community integration to promote a positive independent lifestyle is facilitated through individualized recreation choices in a community setting.


Next Step to Active Living awarded second Three-Year CARF Accreditation
For more details, click here to view the full announcement.
Visit http://bit.ly/TSEqya to watch a video about our Adult Day Program - The Next Step to Active Living. This is a unique program developed to assist adults with acquired physical limitations to improve their functional abilities through therapeutic recreation activities and programs in a community center setting.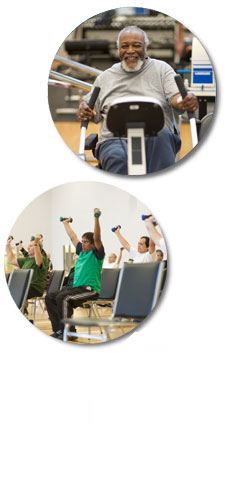 Program Benefits
Often program participants who have completed annual program surveys say they have experienced:
Improvement in physical, social, emotional and mental wellness
Developed skills by participating in various activities
Learned about new recreational opportunities
Explored and identified individual leisure interests
All staff and participants in the program are committed to maintaining, developing, improving, and assisting individuals with personal, social and physical independence in a safe respectful enjoyable environment.

Program Activities
Increased independence or maintenance of current independence is achieved through participation in recreation classes. The program provides a wide variety of activities including:
Group exercise such as chair exercise, balance and functional movement
Cardio and weight training
Aquatic Exercise
Balance and Gait
Fine motor skill development



Participation Requirements


The program is designed specifically for individuals who:
Have acquired physical disability (for example diagnosis of Stroke, Parkinson's, Multiple Sclerosis, or injury resulting in a physical disability)
Has independence with personal care, decision making and mobility
Does not require a medical practitioner to supervise physical activity
Has a strong desire for improved independence in the community
Is 21 years of age or older with a current OHIP card



Application Process


Potential Participants must:
Register and attend a program information tour -
Contact Mississauga Halton LHIN and connect with a Home and Community Care Access Care team 905-855-9090
Have the family physician complete the Next Step to Active Living Referral Form. Forms available through:

Click here to download the referral form
Obtain a referral form from Trillium Health Centre - Credit Valley Seniors and Rehab Day Hospital
Next Step to Active Living locations (South Common, Huron Park Community Centres)
Program Hours


Our program operates year round at 2 locations. A modest fee per session is charged. Office hours are 8:30am-4:30pm Monday to Thursday 905-615-4770 ext. 2279

Interested in Volunteering?
Next Step to Active Living staff are always looking for dedicated, caring, volunteers. Please use the following link to view our volunteer opportunities Volunteer Opportunities

Our Staff
In annual program surveys participants indicate our staff are supportive, qualified, dedicated staff with specialized training and experience necessary to provide a safe, respectful, supportive, fun environment where improving, and facilitating personal, social, and physical independence of all participants is a priority.

Funding
Next Step to Active Living is funded by the Mississauga Halton Local Health Integration Network - Home and Community Care and participant fees. The views expressed in this website are the views of Next Step to Active Living and do not necessarily reflect those of the Mississauga Halton LHIN or the Government of Ontario. To view the Multi-Sector Service Accountability Agreement click here (PDF).

To view the 3 year strategic plan click here