| | |
| --- | --- |
| | New Service |
Route 100 - Airport Express Starting October 29
MiWay will be launching a new express service along the Mississauga Transitway to Toronto Pearson International Airport as part of the MiWay Five Service Plan (2016-2020).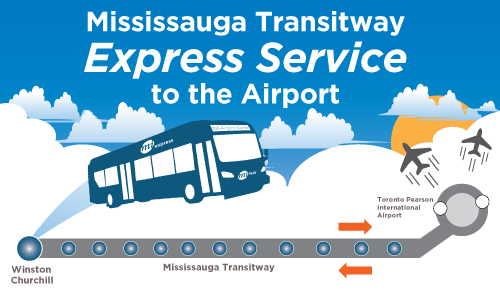 The new Route 100-Airport Express is a limited-stop express route that will connect customers in west Mississauga to the city's downtown core and continue onto the airport. It will travel from Winston Churchill station to Terminal 1 (east only) and to Terminal 3 (via City Centre Transit Terminal, Renforth Station, and Terminal 1), increasing transitway service.
Route 100 will be available from Monday to Friday between 4am and 7pm departing every 16 minutes.
It will stop at all transitway stations and offer connections to TTC service (at Renforth), GO bus service (Winston Churchill, Erin Mills, City Centre, Dixie and Renforth) and Brampton Transit (Dixie and City Centre).