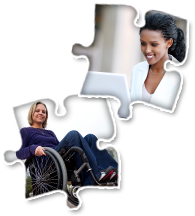 This page is dedicated to recognized community and affiliate groups within the City of Mississauga.
We are proud of our relationships with such a broad base of dedicated voluntary organizations that promote a quality experience to the residents of the City of Mississauga. We hope this page will both assist your group in understanding and updating your status under the Community Group Support Program as well as provide you with tools and resources. Everything you need to know about becoming or developing a community based group!
The Community Group Support Program supports and assists not-for-profit community groups by providing access, in a fair and equitable manner, to City resources and support. Check out our FAQs on how your group can become an affiliate or recognized community group.
If you are interested in the City's Community Group Support Program, simply complete the
Become A City Affiliated or Recognized Community Group
form.
What is the purpose of the Community Group Support Program?
The Community Group Support Program is designed to assist not-for-profit community groups, governed by volunteers, who deliver arts, culture and heritage; recreation, sports and leisure; special events and various social, environmental and special interest programs and services which exist for the benefit of the residents of Mississauga.
What is the role of the City?
The City's relationship with community groups is one of support only. The City cannot be responsible for the decisions and/or actions of any group or its members. The City's relationship with community groups is not an endorsement of the group's beliefs or views, and the City will not act as a review body for any such group, or be seen to represent or imply any partnership.
Direct financial assistance is not provided as part of the program.
What is the role of the City Liaison?
Your City Liaison will determine the appropriate types and levels of services eligible for your group and provide ongoing assistance and guidance. Staff also monitor compliance to the affiliation agreement and the CGSP policy.
What is the definition of a Mississauga Resident?
Eligibility in the Community Group Support Program is reserved for
Mississauga based groups
that provide services that supplement the services provided by the City.
Definition of a
Mississauga Resident
:
"Mississauga Resident means anyone who lives permanently in Mississauga; a student who is registered in an educational institution in Mississauga and who lives and attends school in Mississauga for a period of at least eight months during the calendar year; or a non-resident who is the principal owner of a business in Mississauga and thereby pays Mississauga business taxes."
What are the eligibility criteria for affiliated groups?
At least 80% of members are to be Mississauga Residents.
The President and/or Vice President must be a Mississauga Resident.
An elected Board of Directors of not less than 5 members with 50% being Mississauga residents.
Must adhere to the Ontario Human Rights Code.
Must have a written constitution and by-laws or operating guidelines establishing the framework within which the group will operate. A dissolution clause is also required in your groups constitution.
A general membership of not less than 20 members.
Membership is open to all Mississauga Residents and defined through a set process.
Must provide financial statements of previous operating year's expenditures. Audited financial statements are required for groups with annual budgets of $130,000 +.
A budget for next operating year.
A schedule of events/activities.
What are the membership criteria for a sports group?
One hundred per cent of the player members of all minor sports group, other than minor youth soccer groups, must be Mississauga residents.
Minor youth soccer groups are permitted only two percent non residents, to comply with regional and provincial governing body registration requirements.
Requests for exceptions must be made in writing to the group's city staff liaison on an annual basis.
What are the benefits of the CGSP for affiliated groups?
Permission to place portable signs on City road allowances
A third party general liability insurance policy - Your City liaison must approve this request (This is not Directors liability insurance)
Booking of city community centre rooms and parks at the affiliated rate
Booking of City parks and community centre rooms up to 12 months in advance
Use and delivery of parks equipment at the affiliated rate, such as picnic tables for an event
Assignment of a City staff liaison
One free Annual General Meeting and 12 free executive/board meetings per year
Publicity assistance through the city's brochure, website and city communication channels
What are the eligibility criteria for Recognized Community Groups?
Not for profit organization ( does not need to be formalized)
Must have a minimum of 20 members
Completed Membership Verification Form and meet the Mississauga residency requirements under the CGSP policy
What are the benefits of being a Recognized Community Group?
Permission to place portable signs on City road allowances.
Booking of city community centre rooms and parks at the community group rate.
Use and delivery of equipment at the community group rate, such as picnic tables for an event.
Publicity assistance through the City's brochure, website, city communication channels.
Who is not qualified for the CGSP?
Inclusion in the CGSP will not be provided for groups whose primary purpose, goals and/or objectives are:
to promote a professional association or business opportunity
in conflict with the values, goals and objectives of the City
to further the aims of a political party, promote a political doctrine, or persuade the public To adopt a particular view on a broad social question
What if I am a ratepayers group?
100 percent Mississauga Residents is required for Ratepayers groups.
The revised Community Group Registry Program policy, formally the Community Group Support Program Policy (08-01-01), was endorsed by General Committee on March 21,2018. You can find a copy of the revised policy and the related corporate report at the following link (Agenda Item 8.2):

Community Group Support Program Corporate Policy
More details related to support for groups to implement this policy will be posted soon.
For more information, please contact 905-896-5329 or
community.groups@mississauga.ca
Chairing a Board and/or being a Board Member can be a challenging task at time! Boards often ask themselves, what does it mean to be a not for profit group? How can we be sure we have a good working constitution? What is good governance and how do we know we have it? In order to support our affiliate and community groups we have created a page with useful resources and links to assist you and your Board.
Are you interested in becoming more involved in your community? Or perhaps you are a Board trying to recruit more Members? Joining a Board of Directors is a wonderful and meaningful way to give back as a volunteer! Volunteer MBC is a place for local community groups to recruit new members and for interested residents to find a group that fits their interests, whether it's a local sport or arts and culture or special event organization. Get involved and Be More!
Learn More About Volunteer MBC Here
Reader Board Sign
Have your name in lights with our Reader Boards! If you are an Affiliated or Recognized Community Group, submit your Reader Board request in three easy steps: