Port Credit Harbour
West Parks
Preliminary Design and Development Plan
The City's vision for Port Credit Harbour West Parks is to develop a vibrant waterfront destination that integrates programmable and flexible multi-use civic spaces, facilities that support water-oriented activities such as boating and fishing, and a continuous water's edge promenade with the natural and cultural heritage features of the project area.
The project area includes Port Credit Memorial Park (West) (P-106), Lakeshore Road Bridge Underpass connection, Marina Park (P-112) and the Rivergate easement.
Progress
A water users stakeholders meeting was held on February 14, 2017, to discuss how to accommodate the interests of the various water users groups.
A Public Open House was held May 30, 2017, 6:00-8:00 pm at Clarke Memorial Hall with the consulting team facilitating the meeting. See below for presentation materials from the Public Open House:

A project team meeting was held in June 2017 to consider all of the input received from the public.
Project Update
Based on the feedback we received from the public at the open house on May 30, 2017, and through submitted comments afterwards, the following is a summary of key elements to be incorporated into the final concept plan. (Below elements are organized by park location, refer to the map below for more information.)
Marina Park
River Promenade and lookout points at river's edge;
Retain charter boat area in current location;
Redeveloped launch ramps for boat/trailer access and non-motorized boats;
Secured and improved charter boat docks with fish cleaning station;
Flexible multi-use parking/event space to support fishing, boating, and park activities;
Car/trailer parking and improved access/circulation;
Improved Streetscape with Waterfront Trail on Front St. South;
Clean-up existing vegetation and overhead cables on Front St. South;
Reconfiguration of the Waterfront Trail ramp to be incorporated into the south side of the lighthouse terrace;
Variety of shade and seating options;
Small pockets of open green space and trees;
Improved coastal edge;
Flood-proof the park by raising grade elevation above the hazard lands;
Elevated pedestrian connection along the river to J.C. Saddington Park;
Pedestrian underpass connection between Marina Park and Port Credit Memorial Park (West).
Port Credit Memorial Park (West)
Planted terracing designed to include seating and a small civic plaza to encourage activities like picnics and to watch rowing and fireworks;
River Promenade near the river's edge that meanders and provides access to lookout points;
Naturalization of the shoreline;
Improved streetscape with multi-use trail along Front St. North;
Improved coastal edge.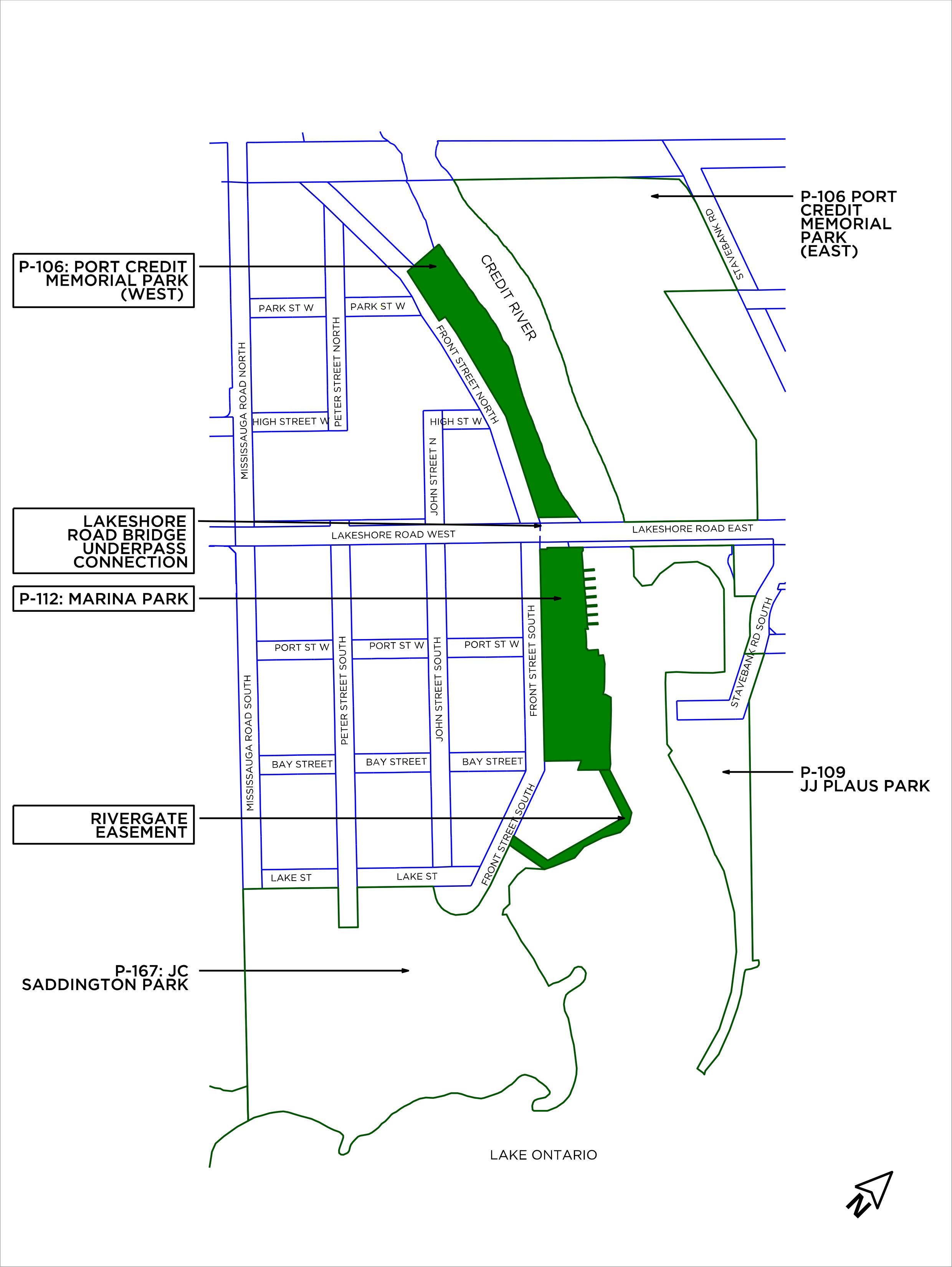 Next Steps
Consolidate key park elements identified above with pre-engineering technical information into a refined concept plan (July - September 2017);
Refine construction cost estimates (July - September 2017);
Seek input from approval authorities and committees (August - October 2017);
Post final development plan on web site (November 2017).
Background Details
The Port Credit Harbour West Parks system boasts one of the City's most diverse and popular water-related uses and is one of Mississauga's most widely used recreational tourism destinations. It plays a significant role in delivering the waterfront experience that visitors anticipate as well as providing great opportunities for the active, water-based recreation, boating, fishing and passive enjoyment of the City's lake and river's edge.
The Waterfront Parks Strategy (2008) set the place for undertaking urban park development and established a series of objectives, program requirements and concept plans for each of the Port Credit Harbour West Parks. These objectives were advanced through a Class Environmental Assessment in 2013, resulting in the Large Block Concept Plan.
The Port Credit Harbour West Parks work underway will assist the City to refine the Large Block Concept into a development plan with detailed costing for Port Credit Memorial Park (West); the lakeshore bridge underpass; Marina Park and the Rivergate Easement (Note: J.C. Saddington Park is excluded from scope of in 2017 due to budget).
This phase of work will include:
Pre-engineering investigations and site analysis;
Site servicing update and investigations;
Program refinement;
Stakeholders and public consultation;
Preliminary park design options;
Final development plan; and
Refined costing.
Project Plan and Timing
2017: Preliminary Design and Development Plan
2018/2020: Detailed Design, Agency Consultation and Approvals
2021/2022: Construction
Goals/Objectives
Building upon the recommendations outlined in the Pre-Design Report/Environmental Study Report and Waterfront Parks Strategy, the objectives of this project are to:
Provide for a complete design in support of the confirmed shoreline and park programs.
Design for flexibility and to functionally support existing and proposed park site programming.
Design to enhance the west side of river/ harbour as a destination for residents, visitors and businesses.
Create a safe public urban waterfront environment on water and land.
Improve the interconnections between the parks and within the larger urban waterfront context.
Create a design that is economically achievable.
Links