Starting July 16, 2018, several bus stops at the City Centre Transit Terminal (CCTT) will be relocated to platforms along Rathburn Road due to construction at the terminal.
Bus loop will be closed
The bus loop will be closed to all vehicles until Aug. 8, 2018 (planned). Alectra Utilities will be relocating utility and telecom services to prepare for the Hurontario Light Rail Transit (LRT).
Please see the terminal map below for routes impacted: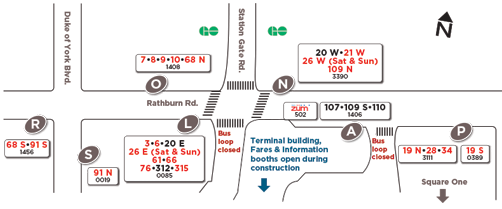 Click on image above to view full size
What is available during construction
During construction, the following will be available:
Fares Booth
Information and Lost and Found Booth
Washrooms (mall level)
North and South doors are open
East and West doors are closed
Safety reminders
Never run across the street to catch a bus
Cross at a signalized intersection
Don't jaywalk through traffic
Schedules impacted
Actual departure times may not match schedules on:
MiWay Trip Planner miway.ca/planatrip
Digital signs at the City Centre Transit Terminal and at Mississauga Transitway Stations
Third party applications using our MiWay data
Please give yourself extra time to get to your bus stop.
We're doing our best to be on time; we apologize for any service delays during construction. Thank you for your patience.