Service Changes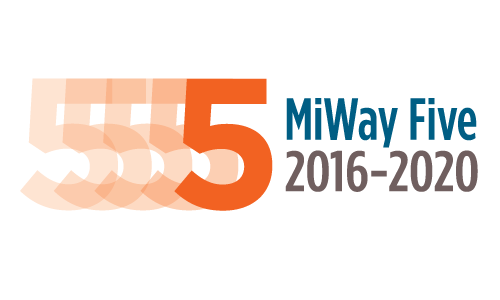 Major Service Changes Effective March 26, 2018
Schedule and Routing Changes
Below are the schedule and routing changes that will take effect on March 26, 2018.
48 Erin Mills
Change

Key Benefit(s)

Southbound routing from Erin Mills Town Centre to Credit Valley Hospital has been revised.

See updated route map
Schedules will be updated on the following routes:
Route Description

Change Type

35 - Eglinton
Trip Adjustments
35A - Eglinton-Tenth Line
Trip Adjustments
48 - Erin Mills
Revised Southbound Routing
76 - City Centre¿Subway
Trip adjusted to Improve Connections
Please visit miway.ca/planatrip for latest schedules.
Student Service
March Break
No school service (300 series) during March Break - March 12-16, 2018.
Visit miway.ca/planatrip for latest schedules
Holiday Service
Below is a list of the upcoming holiday service dates. Please use our Trip planner tool for latest holiday service information.
Good Friday – March 30, 2018
Victoria Day – May 21, 2018
Canada Day – July 2, 2018
Civic Holiday – August 6, 2018
Labour Day – September 3, 2018
Thanksgiving Day – October 8, 2018
Christmas Day – December 25, 2018
Boxing Day – December 26, 2018
New Year's Day – January 1, 2019
Terminal Stop Changes
Other Bus Stop Changes
Route(s)

Stops(s)

Location

Explanation

Legend

####

Red stop numbers will no longer be serviced by any route and will be removed on-street.

53 S
3362
Kennedy Rd at Kenway Dr - Relocate
Bus stop #3362 will move 37m to the north side of the signalized intersection at Kenway Dr. Stop #0195 will be permanently removed from service.

0195

Kennedy Rd at Kenway Dr - Remove
Service Change Dates
Below is a list of the upcoming 2018 service change dates.
March 26, 2018
April 30, 2018
July 2, 2018
August 6, 2018
September 3, 2018
October 29, 2018
December 24, 2018
Overview
The MiWay Five Transit Service Plan (2016-2020) is moving Mississauga's transit system from a design that radiates from the city centre to a grid network that will allow for more frequent buses along main corridors.
MiWay customers will see service improvements rolled out throughout the year. Click on the Service Changes tab above for the latest update.
The MiWay Five plan aligns with the need for continued improvements in the transit network to advance the City's strategic pillar of developing a transit oriented city.
Key Benefits
Learn more about MiWay's Five Year Transit Service Plan and how we're making improvements to transit in Mississauga.
To learn more about the MiWay Five plan, see below:
Ten Benefits of MiWay 5
The MiWay 5 plan will deliver 10 benefits to customers that will be implemented through planned service, every 6 to 8 weeks over the next five years.

Each of these planned improvements will deliver benefits that are tied to revised routes and schedules to provide added frequency, more service hours and better connectivity throughout the network.
| | | |
| --- | --- | --- |
| | Grid network to provide stronger corridors | |
| | More frequent service on main corridors | |
| | More service outside of weekday rush hours | |
| | More express service between key destinations | |
| | Integration with the Mississauga Transitway | |
| | Direct connections between major transit hubs | |
| | Improved connections with GO stations | |
| | Improved service to major employment areas | |
| | Improved service to colleges and universities | |
| | Improved connections to neighbouring communities | |
MiWay Service in 2020
Below is the vision of what transit will look like in Mississauga in 2020, once the MiWay 5 plan has been fully implemented.

The major purpose of MiWay 5 is for MiWay to move towards a grid network. A grid network consists of bus routes that travel along main corridors, as opposed to winding through areas. This grid network will allow for shorter wait times and increased frequency of buses, though it does require the trade-off of a potentially longer walk to your stop.
The following map is subject to change based on a variety of factors, including feedback from the community.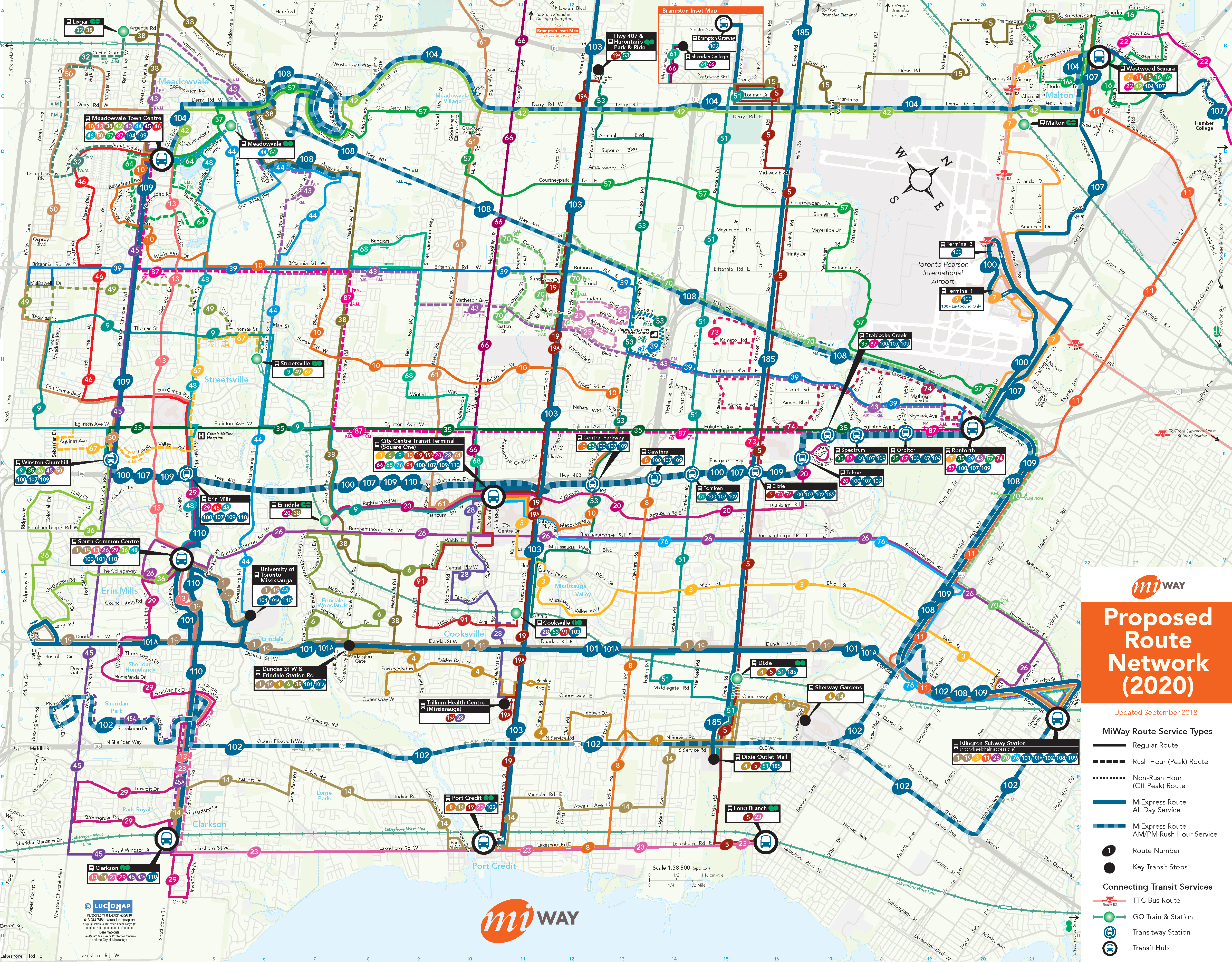 Click on map to download

Proposed Annual Changes
Below are the proposed annual changes that will result in an improved transit system in 2020.
The proposed route and schedule changes are subject to change based on community feedback.
Year Three - 2018 - Powering the Grid
Route

Change

April 30, 2018

38 Creditview

Revised Routing

42 Derry

Revised Routing and Improved Service Frequency

57 Courtneypark

Revised Routing

61 Mavis

Revised Routing

142 Derry Express

New express route along Derry Road

July 2, 2018

15 Drew

Improved Service Frequency

22 Finch

Improved Service Frequency

23 Lakeshore

Improved Service Frequency

September 3, 2018

100 Airport Express

New express service from Winston Churchill Transitway Station to Toronto Pearson International Airport (Terminal 1) via City Centre Transit Terminal

101/101A Dundas

Improved Service Frequency and New Sunday Service

October 29, 2018

19 Hurontario

Revised Routing in response to planned LRT construction (fall 2018)
Year Four - 2019 - Frequency
| Route | Change |
| --- | --- |
| 1/1A Dundas | Revised Routing |
| 7 Airport | Revised Routing to Integrate with the Mississauga Transitway |
| 11 Westwood | Revised Routing |
| 12 Rexdale | Cancelled - Replaced by New/Existing Service |
| 13 Glen Erin | Revised Routing |
| 16/16A Malton | Revised Routing |
| 20 Rathburn | Improved Service Frequency and Revised Routing to Integrate with the Mississauga Transitway |
| 24 Northwest | Cancelled - Replaced by New/Existing Service |
| 30 Woodbine | Cancelled - Replaced by New/Existing Service |
| 34 Credit Valley | Cancelled - Replaced by New/Existing Service |
| 35 Eglinton | Revised Routing to Integrate with the Mississauga Transitway |
| 39 Britannia-Matheson | Revised Routing |
| 50/50A Lisgar-Churchill Meadows | New Local Route to Integrate with the Mississauga Transitway |
| 90 Terragar-Copenhagen Loop | Cancelled - Replaced by New/Existing Service |
Year Five - 2020 - Completing the Network
| Route | Change |
| --- | --- |
| 5 Dixie | Revised Routing |
| 8 Cawthra | Improved Service Frequency and Revised Routing to Integrate with the Mississauga Transitway |
| 14 Lorne Park - Mineola | Revised Routing and Improved Service Frequency |
| 51/51A Tomken | Improved Service Frequency and Revised Routing |
| 185 Dixie | Revised Routing, Improved Service Frequency and New Saturday Service |
pcomapp01:8850