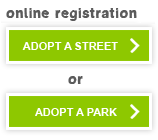 how to begin
Your business, sports organization, service club, school, community group or neighbourhood can become a "Don't Be A LitterBug" Leader by adopting a street or park through the Volunteer Cleanup Program.
make the commitment
Commit to cleaning up an area that is important to you, such as a street that leads to your place of business, a park your children play in, or a road in your neighbourhood. By keeping this area clean, you will be promoting a positive image and discouraging litter.
The Volunteer Cleanup Program involves a two-year commitment with a minimum of three clean-ups per year. The City will support your group by providing necessary gloves, garbage bags and garbage collection.
get recognized
To recognize your groups' efforts, a special sign will be installed in the Adopted Park and a Certificate of Appreciation signed by the Mayor will be mailed to the group at the completion of each two year term.