Our Vision for the Environment
Our vision is to make Mississauga a world-class green city where people choose to live, work and play. Our mission is to drive environmental excellence by providing leadership that empowers and engages people in environmental action.
Putting Our Vision into Action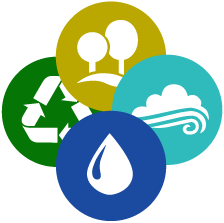 Mississauga's Strategic Plan sets the framework for a more sustainable, dynamic and beautiful city where people choose to be.
The Living Green Master Plan builds on the Strategic Plan vision and identifies 49 actions to address Mississauga's environmental goals and challenges.
The Five Year Energy Conservation Plan (2019-2023) guides improved energy performance of City of Mississauga facilities and creating a culture of energy conservation with a goal to achieve a one per cent reduction in energy and greenhouse gas emissions (GHG) per year over five years.
There are other plans specific to energy, planning, transportation and natural heritage that guide our vision into action.
Our Priorities
Expand the public transit system and alternative forms of transportation
Protect and expand the natural heritage system and the urban forest
Implement green development standards on both private and public lands
Improve stormwater quality
Ensure energy security through community energy planning
Reduce waste
Adapt to climate change
Putting our Priorities into Action
Here are some examples of what the City of Mississauga is doing to contribute to a greener city:
Mississauga Transitway
The City of Mississauga is improving public transit by providing a more efficient, commuter-friendly public transit system. The Mississauga Transitway is under development with phase one now open. Once complete, the Transitway will run 18 km and have twelve stations starting from Winston Churchill Boulevard to Renforth.
Tree Planting
The City of Mississauga's One Million Trees is a program to help green our city, with a goal of planting one million trees over 20 years. Since 2012, over 250,000 trees were planted on City streets and parks.
Protecting our Water - O'Connor Park
City of Mississauga's O'Connor Park directs stormwater runoff to a collection system which helps maintain the water balance to the wetland. The park also has a subsurface infiltration system below the soccer fields, rainwater recycling, permeable pavement and a bio-swale to capture runoff from the parking lot.
Energy Efficient Street Lights
49,000 streetlights are being converted into Light Emitting Diode (LED) lights which will significantly reduce maintenance costs and should result in a 55 per cent reduction in future energy consumption for the City. LED street lights will also increase safety, visibility and reduce greenhouse gas emissions and light pollution.