Our waterfront is more than a shoreline - it's a community.
The City has been exploring opportunities on the Mississauga waterfront at 1 Port Street East, owned by Canada Lands Company, and 70 Mississauga Road South, formerly owned by Imperial.
The City has created plans blending the needs and interests of the community, the landowners and the City. There are unique opportunities at these waterfront sites to create vibrant, inspiring places where people will choose to be. We need to set the right priorities now for the future.
Former Imperial Oil Lands at 70 Mississauga Road South - Update
West Village Partners are the new owners of 70 Mississauga Road South and they have prepared a draft master plan. View the Draft Master Plan.
Inspiration Port Credit hosted a community meeting on June 8 where West Village Partners presented their draft master plan to the community. View written comments.
The draft master plan will continue to evolve through the development application review process informed by input from the community, City and approval agencies. After this, the City will make final recommendations on the master plan and development applications (see Steps to Revitalization).
Planning and Development Committee Meeting:
Staff will present an Information Report: Port Credit West Village Draft Master Plan Status Update (Agenda - see item 4.7)
When:
Monday, June 26
6:30 p.m.
Where:
Council Chamber, Civic Centre (Second Floor)
300 City Centre Drive
[Map]
Future of 1 Port Street East - Delivering on the Vision
Official Plan Amendment Update
A Draft Official Plan Amendment (OPA) was prepared to implement the site's Master Plan as approved by Council on June 8, 2016
The Statutory Public Meeting for the OPA was held on September 6, 2016 (see the Corporate Report)
Staff have received and reviewed comments from the public, landowner and approval agencies
The OPA is critical to establish the appropriate development policies for the site to secure a future marina use, public parks and waterfront lands
Staff presented the final OPA to the Planning and Development Committee for consideration for approval on June 12, 2017 (Agenda - see item 4.4). See the slideshow given by staff at this meeting.
The OPA is the first of five steps requiring City planning approvals prior to site redevelopment (for more details on this process, see the presentation given by City staff at the May 23, 2017 TOPCA meeting)
Aside from the City planning process, there are other initiatives to implement the vision for 1 Port Street East. The Marina Action Plan is critical to determining the future marina ownership, capital and operational cost analysis, funding strategies, development phasing options and high-level layout. Learn more about the Marina Action Plan.
The diagram below outlines these two separate but interrelated streams of work: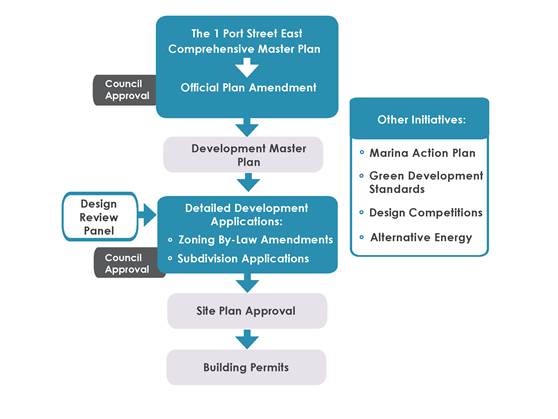 Future Public Processes:
The community and stakeholders will be involved as follows:
Development of the wharf and the future marina would require approvals that mandate public consultation (e.g., Zoning By-law Amendment, Environmental Assessment)
The City's practice with "facility" development projects is to engage the community at appropriate opportunities beyond the mandatory requirements