The City of Mississauga has received an award from the Canadian Forces Liaison Council (CFLC) for being the Most Supportive Employer in Ontario. The City is being honoured for its exemplary support for members of the Canadian Armed Forces Reserves. At this morning's meeting of Council, Mayor Bonnie Crombie and Members of Council accepted the award from Gary Kent, Commissioner of Corporate Services and Chief  Financial Officer for the City. Kent received the honours on behalf of the City at a recent ceremony in Ottawa.
"On behalf of the City of Mississauga and Members of Council, we are honoured and humbled to accept this national recognition as Most Supportive Employer in Ontario," Mayor Crombie said. "The City of Mississauga is proud of the team of professionals who dedicate their time, talent and passion in the work they undertake each day to make Canada's sixth-largest city an even better place to raise a family, earn a well-paying job and enjoy an unrivalled quality of life. We are especially proud and honoured by the unwavering contributions of City employees who make the time to bravely give back to our nation, as members of the Canadian Armed Forces Reserves. The training and skillsets these employees have developed, further prepare them to be proven and respected leaders in the workplace and in the broader community" Mayor Crombie added.
"It's an honour for the City to be selected among hundreds of employers across the province as the Most Supportive Employer," said Janice Baker, City Manager and Chief Administrative Officer. "We actively recruit veterans and reservists and are proud of the talented men and women with military backgrounds who contribute to the high quality of life that Mississauga residents enjoy every day."
The City shares a close relationship with the Toronto Scottish Army Reserve Company which is located in the City's Garry W. Morden Centre. A City program is in place to seek out and hire veterans and those currently serving in the Canadian Armed Forces. Through the program, the City makes it easy for reservists to serve Canada by allowing time off for training and deployments.
In 2015 and 2017, the City received a provincial Best Practice award from CFLC and employs more than 25 reservists and many more veterans of the Canadian Armed Forces.
About CFLC
The CFLC is a volunteer organization made up of business and government leaders dedicated to supporting Canadian Armed Forces Reservists and building better relations between Canada's military and civilian employers.  Every two years, the CFLC recognizes employers who have gone above and beyond in their support for the Canadian Armed Forces including hiring reservists and providing leave to allow them to carry out their part-time duties.
Photo: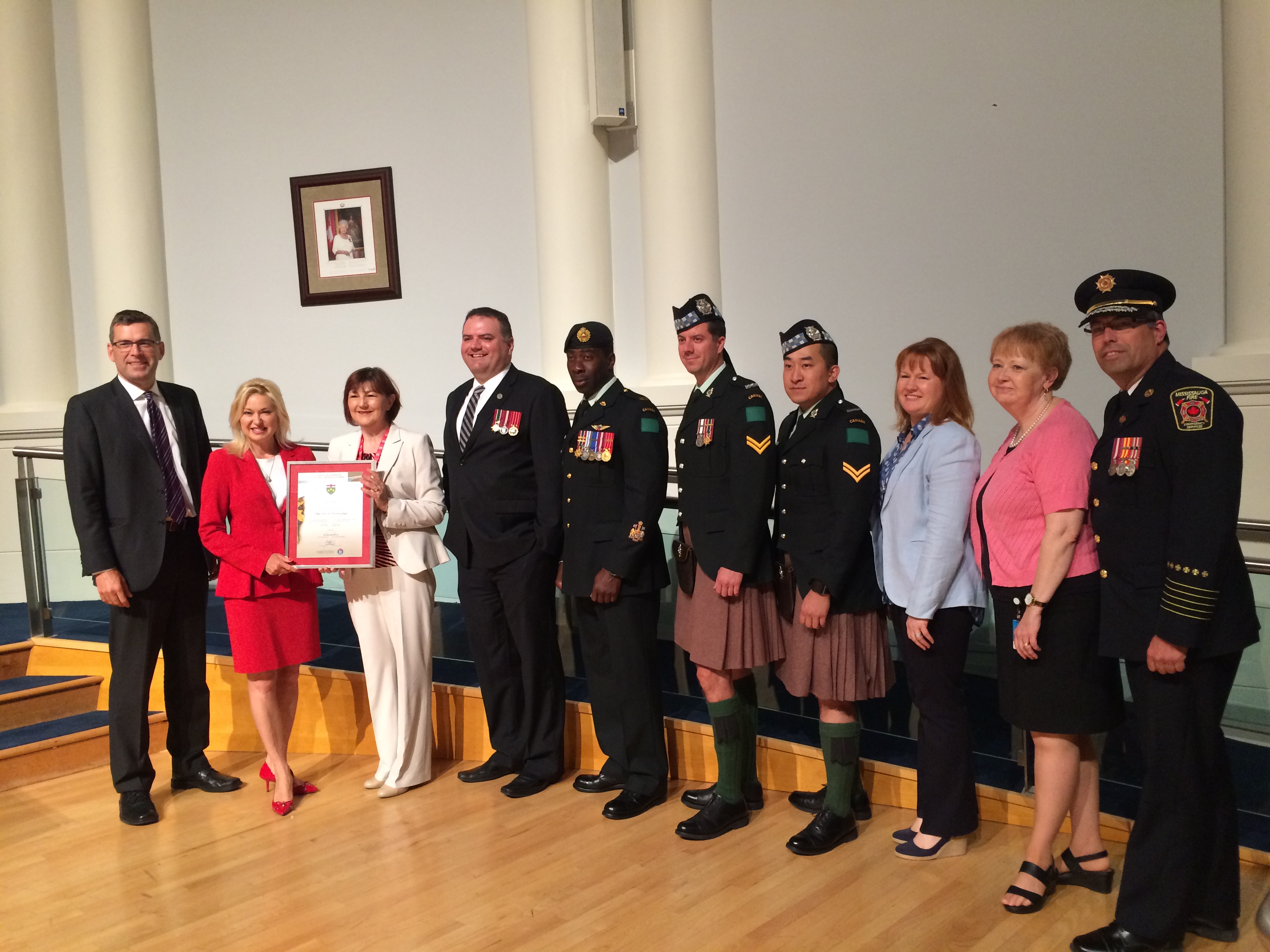 [Left to right: Commissioner of Corporate Services and Chief  Financial Officer Gary Kent, Mayor Bonnie Crombie, City Manager and Chief  Administrative Officer Janice Baker, Commanding Officer, The Toronto Scottish Regiment, Graham Walsh and reservists, Manager, Strategic Talent Management, Lori Kelly, Director, Human Resources, Sharon Willock and Fire Chief  Tim Beckett]