Stormwater Credit Program
The Stormwater Credit Program has been designed to provide a stormwater charge reduction to multi-residential and non-residential properties whose stormwater practices or measures provide a direct benefit to the City's Stormwater Management Program.
Multi-residential and non-residential properties make up 70% of the hard surface area in the City. These sectors have the greatest opportunity for stormwater improvements and reduction. There are a number of stormwater management practices that can be implemented on multi-residential and non-residential properties as shown in the diagram below.
Stormwater Management Practices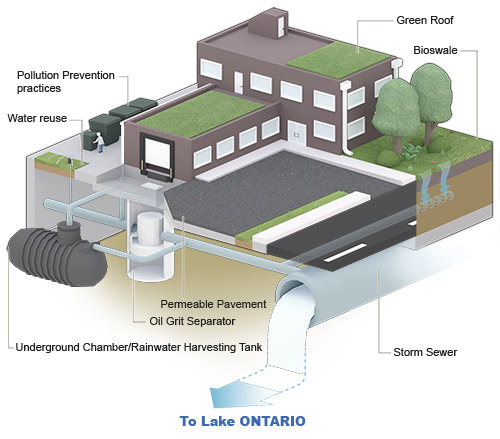 These direct benefits are categorized as:
How are Credits Awarded?
To be awarded credits, applicants must demonstrate through engineering reports and drawings how well existing or proposed stormwater best management practices perform, according to the evaluation criteria below.
Stormwater Credit Schedule
Category
Evaluation Criteria
Total Credit
(50% max)
Peak Flow Reduction
Per cent reduction of the 100 year post-development flow to pre-development conditions of the site.
Up to 40%
Up to 50%
Water Quality Treatment
Per cent of site (hard surface) receiving water quality treatment consistent with Provincial criteria for enhanced treatment.
Up to 10%
Runoff Volume Reduction
Per cent capture of first 15 mm of rainfall during a single rainfall event.
Up to 15%
Pollution Prevention
Develop and implement a pollution prevention plan.
Up to 5%
How to apply for credits
Participation in the Stormwater Credit Program is by application only.
The City offers two options to apply:
Apply Online →
Download Printable Application →
Stormwater Charge Credit Guidance Manual
The City has prepared the Stormwater Charge Credit Application Guidance Manual to assist with the application process. Please read this technical manual before starting the application process. Supporting documents certified by a qualified professional engineer will be required as part of the application. The City may request additional documents and may conduct site inspections as part of the application review.
Download the Guidance Manual →
Visit best management practices and measures for more detailed information on the type of infrastructure to consider for the Stormwater Credit Program.
To attend an information session or to ask questions about the Stormwater Credit Program, please email us at: stormwater@mississauga.ca.
Credit Renewal
Property owners with credits are required to submit formal update applications if changes occur that affect the performance of a best management practice. Depending on the application submission, credits can be valid for up to a maximum of five years. Credits are eligible for renewal, provided they continue to meet the required terms and conditions. A complete application for credit renewal must be received at least six months before the expiration of previously approved credits to allow sufficient time for review and approval.
The City's Stormwater Credit Policy outlines the program and process.
Administration of Stormwater Credit Program
The Stormwater Credit Program will be administered by the City's Environmental Services Section. Stormwater Credits will appear on the Region of Peel water bill as a reduction to the Stormwater Charge amount for the property. As part of the program, the City may conduct site inspections in relation to the stormwater practices on a property. For more information, see the Credit Policy and Fees and Charges By-Law.
Learn More
Credit Program Information Session for Multi-Residential Properties
Credit Program Information Session