Explore Mississauga's public art, museums, heritage, artists, venues, events and other cultural resources.
Buy the 2019 Street Guide ($15.75) from our eCity store or from two of our City locations. Phone 905-615-3200 ext. 3347 for more information.
Inventory of all City Owned Properties
Map displaying current City Wards as of January 1, 2010
Read all about Mississauga's Zoning By-law. We have an entire page devoted to this new document.
Mississauga Maps - Interactive Online Mapping Service
Welcome to the City of Mississauga's mapping site.



This online mapping service allows you to:

browse and explore accurate, regularly maintained mapping data
view current and historical aerial photography
search and locate an address
search and locate a street intersection
search and locate points of interest, such as parks
measure distances and areas
view the location and details of survey monuments

Requirements for using Mississauga Maps:

Mississauga Maps is supported on all major browsers, including Google Chrome, Internet Explorer, Firefox and Safari. Use the latest version of your favourite browser to get the best experience. Older browser versions, or other browsers not listed, may not work as well.
JavaScript must be enabled in your browser.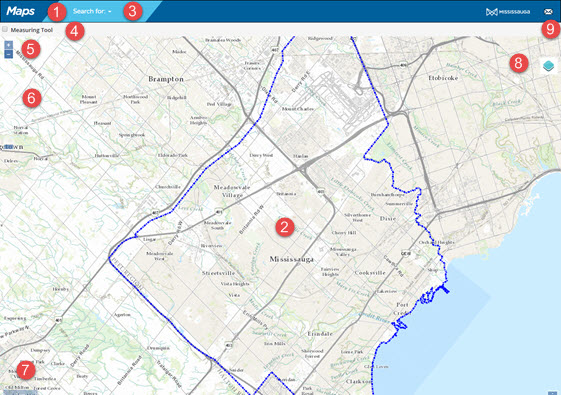 | | | |
| --- | --- | --- |
| 1 | Map Page Header | Top section of the page with the search control and social media links. The Maps logo can be clicked on to reset the map back to the original zoom. |
| 2 | Map Viewer Window | The Map Viewer window is for viewing and interacting with mapping data. |
| 3 | Search | The Search menu is to locate Street addresses, Intersections and City Points of Interest. See below for more details. |
| 4 | Measuring Tool | Select the check box to measure approximate length or area. See below for more details. |
| 5 | Zoom In and Out Buttons | Can be clicked on to zoom the map for more or less detail; the closer you zoom in, you will see more detail and a smaller area. |
| 6 | Zoom Level Control | The Zoom Level Control displays your current zoom level and it can be clicked on for quick changes to the zoom. |
| 7 | Scale Bar | The Scale Bar displays the relationship of distances on the Map with those on the ground. The Scale Bar changes each time you zoom IN, zoom OUT, or resize the Map Viewer window's zoom scale. |
| 8 | Map Layer Picker | Mouse over the blue stacked diamond to show the Layer Picker, which displays what additional details can be added or removed. The levels displayed are dynamically shown based on the zoom. |
| 9 | Feedback Link | Click here to submit any feedback, including data and functionality issues, thank you. |
pcomapp02:8853