Overview
The MiWay Five Transit Service Plan (2016-2020) is moving Mississauga's transit system from a design that radiates from the city centre to a grid network that allows for more frequent and direct service along main corridors.
Planned service changes occur every 6 to 8 weeks throughout the year. Visit our Service Changes page for the latest updates.
Each year, MiWay hosts public information sessions in the fall about its upcoming annual service plan to get feedback on the recommended route and schedule changes. This annual community outreach initiative began with the launch of the MiWay 5 plan in 2016.
Prior to implementation of the annual service plan, MiWay conducts a thorough analysis of the recommended changes based on community feedback and ongoing ridership analysis throughout the year. This means that further adjustments to the plan can be introduced during the year to best serve our customers.
We want to hear from you! Please share your thoughts on our planned service changes by contacting MiWay Customer Service at miwayhelps@mississauga.ca or 905-615-INFO (4636).
Watch the video to learn more about the benefits of the MiWay Five Transit Service Plan.
Related links:
Ten Benefits of MiWay 5
The MiWay Five plan will deliver 10 benefits to customers that will be implemented through planned service changes that occur every 6 to 8 weeks.
Each of these planned improvements will deliver benefits that are tied to revised routes and schedules to provide added frequency, more service hours and better connectivity throughout the network.
| | | |
| --- | --- | --- |
| | Grid network to provide stronger corridors | |
| | More frequent service on main corridors | |
| | More service outside of weekday rush hours | |
| | More express service between key destinations | |
| | Integration with the Mississauga Transitway | |
| | Direct connections between major transit hubs | |
| | Improved connections with GO stations | |
| | Improved service to major employment areas | |
| | Improved service to colleges and universities | |
| | Improved connections to neighbouring communities | |
MiWay Service in 2020
Below is the vision of what transit will look like in Mississauga in 2020, once the MiWay Five plan has been fully implemented.

The major purpose of MiWay Five is for MiWay to move towards a grid network. A grid network consists of bus routes that travel along main corridors, as opposed to winding through areas. This grid network will allow for shorter wait times and increased frequency of buses, though it does require the trade-off of a potentially longer walk to your stop.
The following map is subject to change based on a variety of factors, including feedback from the community and ongoing ridership analysis throughout the year.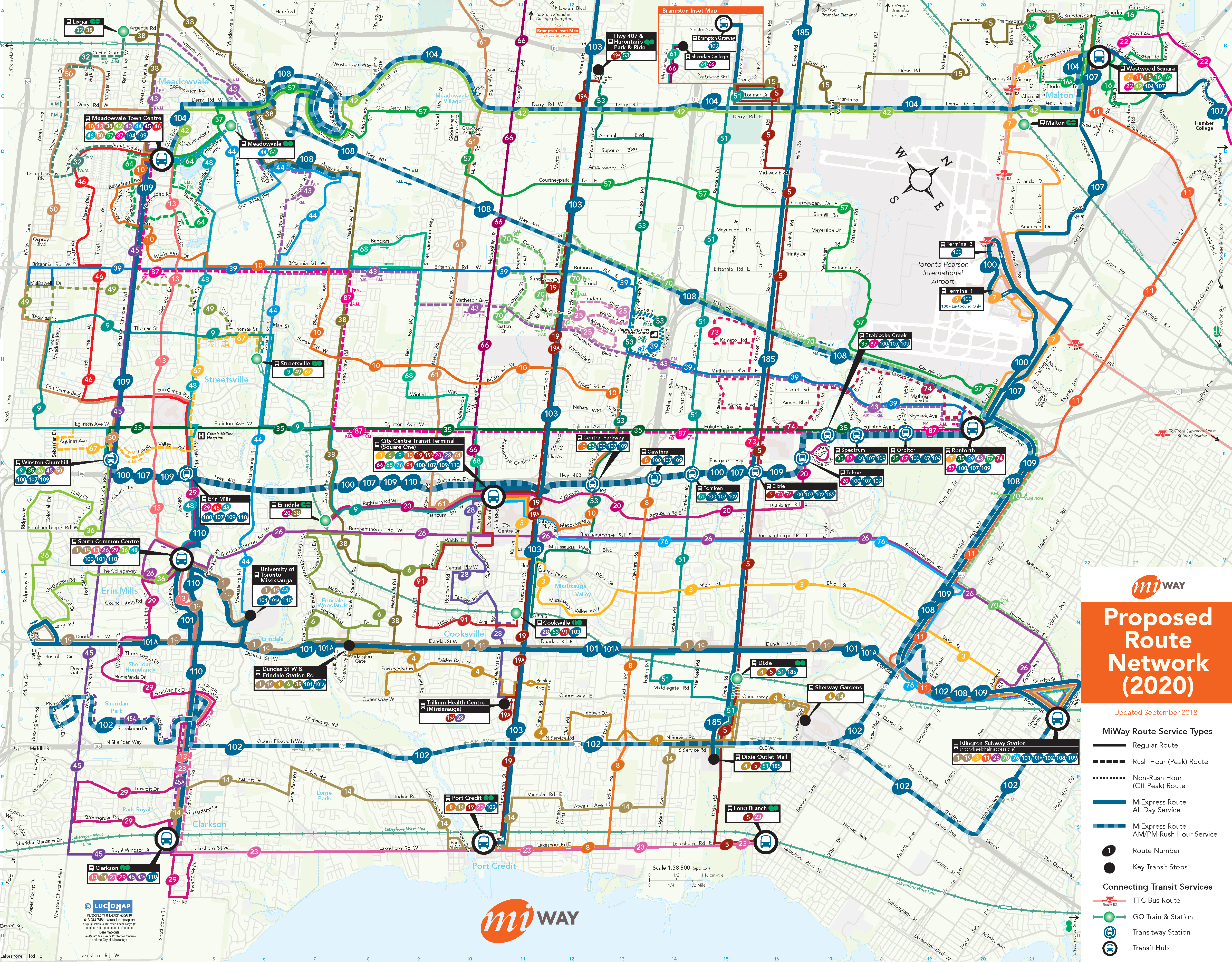 Click on map to download

Proposed Annual Changes
Below are proposed changes for 2020. Before the service change takes place, MiWay reviews recommended changes along with customer feedback and ridership data. Further changes can be introduced during the year. Visit our Service Changes page for the latest updates.
Year Five - 2020 - Integrating New Transit Hubs
2020 Proposed Service Changes
Proposed Service Change and Date

Description

April 27, 2020
Enhancing the Eglinton Corridor by Eliminating Service Duplication
Route 7 Airport
Revised routing to service Northwest Drive and end at Renforth Transitway Station (previously serviced by Route 24 Northwest).

Route 24 Northwest
Cancelled and merged with Route 7 Airport. Alternate routes: revised Route 7 Airport and 107 Malton Express.

Route 34 Credit Valley
Cancelled to eliminate service duplication. Alternate route: enhanced Route 35/35A Eglinton with increased service frequency.

Route 35 Eglinton-Ninth Line / 35A Eglinton-Tenth Line
Increased service frequency.
September 7, 2020
Seamless Connections with the New Kipling Station (Toronto)
Routes relocated from Islington Station to the new Kipling Station:


1 Dundas / 1C Dundas-Collegeway
3 Bloor
11 Westwood
26 Burnhamthorpe
35 Eglinton-Ninth Line / 35A Eglinton-Tenth Line
70 Keaton
71 Sheridan-Subway
76 City Centre-Subway
101/101A Dundas Express
108 Meadowvale Business Express
109 Meadowvale Express

October 26, 2020
Lisgar and Meadowvale Area Routing Changes and Integrating the New Churchill Meadows Community Centre and Park
Revised routes to service the new Churchill Meadows Community Centre on Ninth Line:


9 Rathburn-Thomas
35 Eglinton-Ninth Line
39 Britannia

Route 35A Eglinton-Tenth Line
Route 35A Eglinton-Tenth Line will be merged with Route 35 Eglinton-Ninth Line to eliminate variants.

Route 49 McDowell
Revised routing to eliminate service duplication and expand service to Peacock Drive and Vista Boulevard.

Route 50 Lisgar-Churchill Meadows (NEW)
New route travelling between Meadowvale Town Centre and the Winston Churchill Transitway Station, replacing Route 39 along Lisgar Drive and Route 9 on Churchill Meadows Boulevard.