Planning an Event
The City of Mississauga offers a wide variety of rental spaces. Our facilities are affordable, clean and located right in your community. We can accommodate events from 10 to 450 people with a variety of room sizes to choose from.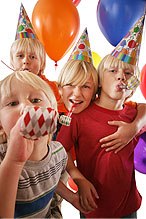 Available Spaces for:

Premium Banquet Venues (More...)
| | | | |
| --- | --- | --- | --- |
| | Social/Banquet Rooms | | Meeting Rooms |
Arenas (ice & floor)
Sport Fields(indoor & outdoor)
Golf Courses
Swimming Pools (indoor & outdoor)
Gymnasiums
| | | | |
| --- | --- | --- | --- |
| | Parks | | Museums |
| | Theatres | | Lobbies |

Function Ideas
Weddings
Anniversaries
Children's birthday parties (arenas, pools, gymnasiums & rooms)
Sporting events (indoor & out)
Business or group meetings
Seminars
Picnics

Online Facility Rental Services

Rent Ice Online
Submit a Request to rent a facility
Find Availability for the following facilities

Arena Ice/Floor
Gymnasiums
Parks
Soccer/Football Artificial Turf
Rental Rates
All facility rentals are based on rates that have been approved by City Council. Facility rentals are classified into weekday and weekend bookings and rates are based on the type of room required and time of day selected. Please call the Recreation and Parks Customer Service Centre at 905-615-4100 for specific rates.

How to Book Your Function
To book a facility or for information about rental rates and availability, please call 905-615-4100 or visit:
City of Mississauga
Recreation & Parks,
Customer Service Centre
301 Burnhamthorpe Road West,
Ground Floor, Central Library
Hours of Operation
Monday-Friday, 8:30am-4:30pm
Services and Supplies
We pride ourselves in providing a variety of affordable rental spaces located right in your community. Whether you're organizing a wedding, birthday party or family function, we want to ensure your day is a memorable one. Our staff are here to help you make the most of what we have to offer.
Available Services

The list of available services varies from location to location and room to room. Here are a few items we can provide you:
Tables and Chairs
Cleaning Services
Free Parking
Room Set-up
Kitchen, Bar Facilities
Audio Visual Equipment
Supplies
Please confirm available services prior to booking your event.

Supplies

Required and Optional Purchases
When renting a City facility, there are supplies that must be purchased from the facility for your event. Optional supplies are also available. Please confirm all details with the facility prior to booking.

Required Supplies
Pop and Ice

Optional Supplies
Orange Juice
Tablecloths (white paper)
Styrofoam Cups
Coffee (cups, cream, sugar,
Plastic Cups/Glasses and stir sticks)
Charges for required and optional purchases will be invoiced to you after the event has taken place.
Terms and Conditions

Use of Music

Organizers of events held in City facilities are required under federal legislation to pay a licensing fee to SOCAN (Society of Composers and Authors) if they are having live or recorded music or dancing at their event. The City collects this fee on behalf of SOCAN at the time thebooking payment is made.

Service Alchohol

If you're planning to host an event at a City of Mississauga Facility and serve alcohol, there are a number of steps you must follow.

More on the Municipal Alcohol Policy.

Liability Insurance

Liability insurance is required naming the City of Mississauga as an 'Additional Insured' for anyone who permits City facilities to host sporting activities and socials serving alcohol. insurance coverage is available through the City's user insurance program.

More on Facility Rental Insurance

Smoking

SMOKE-FREE REGION OF PEEL BY-LAW 14-2003
According to Region of Peel's Smoke Free By-law, smoking in public places and all common areas is prohibited at all times.
Payment Terms and Conditions

Detailed terms and conditions are outlined on the back of the facility rental contract.
Events booked less than one month in advance or contract value of less than $100: full payment is due immediately at time of booking - no refunds or transfers permitted.
Auditorium prime time social booked more than two months in advance: 25 per cent on-refundable payment due at time of booking; balance due two months prior to event date (post-dated payment method).
For detailed information regarding payment cancellation terms please call 905-615-4100.


Payment Options
Cash, Cheque, Debit Card, Master Card, Visa, American Express