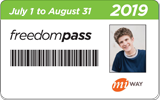 Are you 12 - 14 years old? Would you like to travel on MiWay for free this summer? How about free public swimming at both indoor and outdoor pools? Then you need a Freedom Pass!
Your Freedom Pass allows you to ride for free on
MiWay
within Mississauga and free participation in public swims at City operated pools from July 1 to August 31, 2019. All you have to do is
click here
or go to any City of Mississauga community centre to complete an application form, then submit your completed form in person at your local community center (along with one piece of identification) and have your photo taken to create your personalized pass.
Register now for you Freedom Pass Cards - cards will be available as of May 20, 2019.
Swimming and Other Free Stuff
Experience the freedom. There are so many free activities available this summer in the city, here's a list of some places you can go and things to do with your Freedom Pass: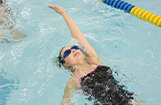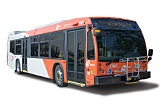 Frequently Asked Questions
NOTE: Freedom Pass is available to Mississauga residents only.
How much does the pass cost?
The Freedom Pass is completely free for 12, 13 or 14 year olds (date of birth July 2,2004 - December 31, 2007).

How do I get my Freedom Pass?
Simply fill out an application form, print it, sign it and bring it into a City of Mississauga community center. You can also pick up an application form at any City of Mississauga community centre.

When can I apply for a Freedom Pass?
Applications will be accepted May 1, 2019 through to August 31, 2019. There are only a limited number of cards available, so get yours early!

How long are the Freedom Passes valid for?
The Freedom Pass can be used from July 1, 2019 to August 31, 2019.

Where does the Freedom Pass allow me to travel?
The Freedom Pass is exclusive to MiWay services and routes within Mississauga.

Can a parent or sibling of a Freedom Pass holder travel for free?
Only the photographed Freedom Pass holder is eligible, all other riders pay the applicable fare. For more details, go to www.miway.ca/fares. Passes will be confiscated by Transit Authority if used fraudulently or reproduced illegally.

Are the free public swims valid at outdoor pools?
Yes, all City of Mississauga operated indoor and outdoor pools will accept and scan your Freedom Pass to allow you unlimited free public swims from July 1, 2019 to August 31, 2019. Outdoor pools are heated.

What if I lose my Freedom Pass?
You will need to bring 1 piece of identification to any City of Mississauga community centre to verify your identity in our system. A card replacement fee will be charged for lost Freedom Passes.

How does riding MiWay help the environment?


Everyone who chooses to ride MiWay reduces their carbon footprint and helps conserve energy by eliminating travel that would have otherwise been made in a single occupancy car.
MiWay buses take 11,000 cars of the road annually - that's 55,000 tonnes of C02 every year!
Taking public transit is one of the most effective actions people can take to combat climate change.

Emissions from the transportation sector (namely personal vehicle use) accounts for 32% of all GHG emissions in the community.