City of Mississauga Volunteers...
Helping to Enrich our Community Together!
Volunteers are a valuable part of our Recreation team. We invest time and resources to provide our volunteers with an opportunity for an enjoyable and rewarding experience.
The Recreation Division works with hundreds of volunteers to deliver outstanding programs and services. Through our Volunteer Management Program, we strive to match volunteers with available positions which meet their needs and interests.
Volunteer Areas
Swimming, day camps, youth activities, fitness, skating and special interest. Successful volunteer candidates are provided with site specific orientation, training and supervision.
Requirements
Volunteers must be 14 years of age or older. A Criminal Records Search may be required of the successful volunteer candidate. Certification in HIGH FIVEŽ PHCD (Principles of Healthy Childhood Development) is preferred for volunteer positions assisting with children HIGH FIVEŽ PHCD Certification
Although we can't match every volunteer, all applications are considered. If you would like to contribute to your community by sharing your time and expertise volunteering with the Recreation Division, you can pick up a volunteer application at any Mississauga community centre, arena, or download it online. You may also contact one of the specific program areas listed on this page. Your volunteer efforts are greatly appreciated by staff, participants and your community. Call 905-896-5326 or visit http://www.mississauga.ca/volunteer
Why Should I Volunteer?
Meet new people and have fun
Help out doing activities you enjoy
Fulfill your volunteer hours component for school
Gain experience and new skills
Additional Information
Sauga Stroke Breakers
A therapeutic Recreation Program for stroke survivors. We are seeking volunteers to assist participants with swimming, arts & crafts, board games and much more. Program hours are 10:00am - 2:00pm on Thursdays (at Mississauga Valley CC). This program does not run during the summer. Call 905-615-4670, ext. 2471.
Aquatics/Swimming
Contact your local pool for volunteer opportunities in your area. Pool Locations
Community Engagement in Parks - Get Involved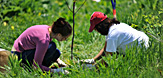 Forestry
Volunteers are needed to plant and maintain trees, improve trails, and remove invasive plants. More Information
Golf
Are you interested in volunteering at Lakeview Golf Course? More Information
Inclusion Volunteers
The Recreation Inclusion Volunteer Assistance Program is seeking volunteers to provide general assistance to persons with disabilities in our programs. Volunteers will gain valuable experience while learning new skills. For more information email inclusion.recreation@mississauga.ca.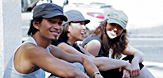 Mississauga's Youth Advisory Committee (MYAC)
Mississauga's Youth Advisory Committee (MYAC) is a testament to the enthusiasm, vitality and dedication of the youth of Mississauga. Representing the Youth Voice in Mississauga, MYAC welcomes dedicated, passionate individuals 12-24 years old to their membership who want to make a difference in their community. MYAC members meet the second Wednesday of the month at 300 City Centre Drive. Be sure to check out www.myacmississauga.com to learn about all the ways to get involved.
Museums
For information about volunteering call 905-615-4860, ext 2111 or visit www.museumsofmississauga.com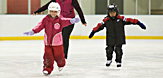 Skating
Volunteer MBC (Mississauga, Brampton, Caledon)
Volunteer MBC is the local volunteer centre serving the cities of Mississauga and Brampton, and the Town of Caledon. The centre offers a referral and matching service for volunteer placement within the community for all ages to include youth, older adults/seniors, and newcomers. They also serve the corporate community with various programming services that engage individual and team volunteering. The centre also offers networking opportunities, access to professional development programs, workshops and webinars, as well as providing formal recognition to volunteers for their contributions.
Individuals who are looking for a volunteer opportunity can visit the centre's website and access an easy-to-use on-line searchable database of postings available within any given area across the Region of Peel, or visit one of three convenient locations in Mississauga, Brampton or in Caledon. The Volunteer MBC - Mississauga Centre is located in the offices of Family Services of Peel at 151 City Centre Drive, Unit 501 (near Square One Shopping Centre) and is open, by appointment only, Monday to Friday from 10:00AM to 2:00PM, with the exception of Wednesdays as the Centre closes at 1:00PM.
Explore your passion through volunteering! The future rests in YOUR helping hands! For more information, or to set-up an appointment to meet with their referral team, call 905-238-2622, email 2volunteer@volunteermbc.org, or visit www.volunteermbc.org