Telephone Budget Sessions
A random selection of residents will receive a call on October 18 to attend a telephone budget session for Wards 2 and 6. Anyone who does not wish to participate can simply hang up.
2018 Budget Process
Try the City's Budget Allocator Tool
The budget allocator is a great way to learn about the cost of City services and to tell us about your priorities. It enables you to adjust the funding for twelve of the day-to-day services you rely on the most.
Try the budget allocator →
Tell Us Where Your Property Tax Dollars
Should Go
We want to hear from you on the proposed 2018 Budget. Visit our Budget Engagement website to help us decide how the City property tax dollars should be spent.
Sign up for a Telephone Budget Session
Request a meeting for your group
View service area videos
Attend a Budget Committee meeting
Ask a question
Share your ideas →
You Asked Us
2016 Average Residential Property Tax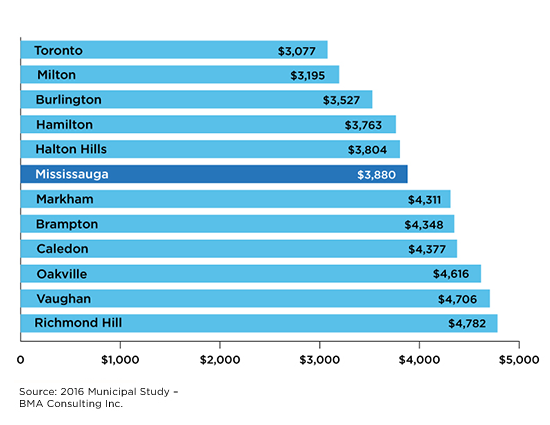 For more locations view the full version
In Mississauga, you get good value for your tax dollar.
Mississauga is a growing, maturing city. The cost to expand the City's 300+ services is increasing as the population grows.
The City delivers the programs and services a larger city requires, for example:
82 MiWay transit routes
23,599 recreation programs in 11 community centres
18 libraries
Free public Wi-Fi in 95 City locations
5,200 kilometers of road network
30,106 calls to Mississauga Fire and Emergency Services in 2016
In setting the tax rate, the City balances the need to maintain services and infrastructure and add new programs and facilities required to meet a growing population.
Cities are in the people business. Firefighters, transit operators, librarians and swim instructors are examples of the people who deliver the services residents rely on every day.
Mississauga aims to attract the best-qualified people to deliver our programs and services. We benchmark against other municipalities and public sector organizations to ensure we offer competitive yet cost-effective salaries and benefits that are in range with comparable organizations across the country.
The property tax is the City's primary source of funding. It helps pay for important services, such as keeping roads in good repair, maintaining and expanding our transit system, supporting our fire and emergency services, parks, community centres, libraries and much more.
We provide all of these services with just 34 cents of every tax dollar collected. The rest goes to the Region of Peel and the Government of Ontario.
The City also receives revenues from other sources such as user fees and developer contributions.
We challenge ourselves to find efficiencies each year. The City has saved more than $51 million since 2009 by innovating and improving processes. Through our commitment to continuous improvement, we have adopted Lean and other tools to improve the way the City works.
For example, by making changes such as making our Active Guide an online tool, eliminating MiWay paper passes and switching to LED street lighting, the City is finding efficiencies and new ways to save money.
Only sixty per cent of all services and programs we deliver are funded by the property tax. We receive revenues from other sources, such as user fees, developer contributions and gas tax.
The Ontario Municipal Act limits how the City can generate new non-tax revenue. The City of Mississauga and other Ontario municipalities have asked for changes to the Act to give local governments more revenue-generating options.
2017 Budget
Where are your 2017 dollars spent?
The City of Mississauga owns infrastructure assets worth $8.5 billion. Funding for the City's infrastructure comes from your property taxes. The rest comes from other sources like debt financing, gas taxes, and development charges. More...
Where is the Stormwater program budget?
The City's Stormwater program has a separate plan & budget.