What are the City's priorities? Where does the City get money from? What are the challenges facing the City? Find out more.
When preparing business plans and budgets, service areas focus on:
Where the City gets money
In the past, the City has funded much of its infrastructure projects through charges that developers paid to the City to build new homes and businesses in Mississauga. Now, with the City largely built, most development projects are smaller in scale, and the revenue received from development charges is much lower.
Ontario's Development Charges Act limits the types of infrastructure costs development charges can fund. When infrastructure starts to deteriorate, municipalities must fund, repair and maintain it through property taxes or find other sources of funding.
The City only gets 1/3 of every property tax dollar collected.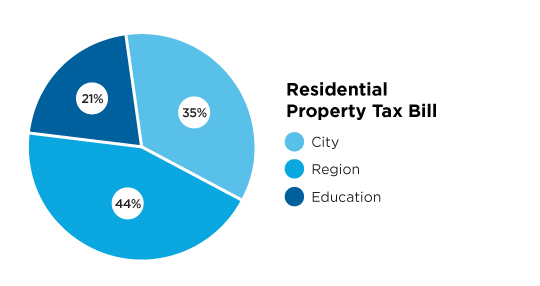 The City only gets 1/5 of every commercial/industrial tax dollar collected.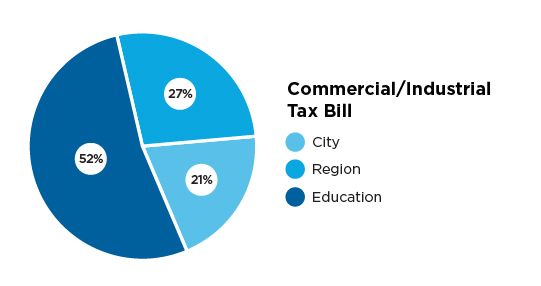 The City of Mississauga is one of four levels of government with various responsibilities: Municipal, Regional, Provincial and Federal.
The property tax bill in Mississauga provides funding for services provided by three levels of government – The City of Mississauga, the Region of Peel and the Province of Ontario for the Ministry of Education.
Mississauga is part of a two-tier government structure. This means Mississauga's property tax bill provides funding for local city services and regional-level services, as well as for education.
Visit the Region of Peel's 2019 Budget for more information.
To maintain services citizens expect while keeping infrastructure in a good state of repair, the City must increase taxes.
Challenges facing the City
Growth in GTA communities is creating more traffic on roads which leads to increasing need for transit options.
Transit ridership demands are growing faster than population growth and additional services will bring additional costs.
Since the City is mostly built, large scale residential and commercial construction is slowing down, reducing development permit revenues.
The energy market is unpredictable.
The Emerald Ash Borer, an invasive insect, is threatening to destroy the City's tree canopy and requires a special levy to deal with this problem.
The City's aging infrastructure needs repair and ongoing maintenance.
The development of the downtown and the waterfront are still in the planning stages. These plans will require an investment of public funds.
Climate change and recent weather events highlight pressures with storm water management. A stormwater charge was approved for 2016.
To learn more, download the complete Business Plan and Budget or the Executive Summary.