Advertising
Introducing activemississauga.ca
Share:
Advertise and expand your reach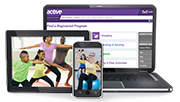 activemississauga.ca is the City of Mississauga's new recreation guide.
Replacing the print, Active Mississauga Guide, activemississauga.ca is the definitive online resource and registration tool for all City facilities, schedules and recreation programs.
With extensive reach and repetition, advertising on activemississauga.ca offers maximum exposure for your products, services and corporate brand.