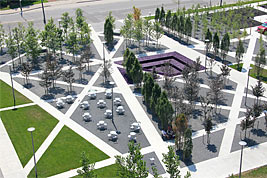 Imagine walking downtown in Canada's 6th largest city surrounded by event venues like Celebration Square, The Living Arts Centre, City Hall, a transit hub, and Sheridan College, and still be able to relax under a tree, or walk barefoot on the grass. In the City of Mississauga, it's a reality come true.
Scholars' Green is an urban green space located at Sheridan College's new campus in downtown Mississauga, serving as a public park and academic common. Not only is it a complement to the City of Mississauga and the residents of the downtown, it's a wonderful addition for the students, faculty and staff at Sheridan. The new modern outdoor space now functions as a place for passive recreation with outdoor café areas, grass quadrangles and chess tables. This is just one example of how building great spaces will move us closer to the downtown envisioned in the Downtown21 Master Plan.
In 2012, Scholars' Green won an Award of Excellence from the Mississauga Urban Design Awards. This prestigious prize recognizes the efforts of the partnership for their commitment to the environment, design and the inclusion of sustainable material and green technologies.The landscape is as visually impressive as it is inviting with trees, a pavilion with a gathering area and public squares.
The Downtown21 Master Plan outlines plans for the development of new public spaces in the downtown to serve as a platform for a range of community activities and social uses.
Learn more about Scholars' Green and Sheridan's Phase II Campus Building to be located north of Square One Drive.